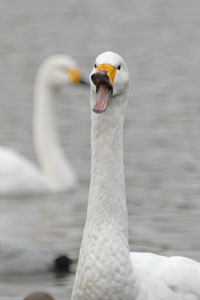 Government must try harder to tackle problems such as flooding, pollution and waste, with the coming year offering a real opportunity to change the way we value, manage and invest in water.
It is a year since the Blueprint for Water coalition – supported by more than six million people – handed Ministers a 10-step plan for improving the water environment for people and wildlife by 2015.
They have now issued an end of year scorecard to assess progress. It shows that welcome progress has been made on the introduction of water meters and on reducing the amount of water wasted in homes.
However, on a range of issues – from sewage and water pollution to the restoration of rivers and floodplains – the last 12 months have seen little or no progress.
Graham Wynne, chief executive of the RSPB, said: 'The Blueprint was launched against a backdrop of serious drought in the south of England. A year on we are reviewing progress in the wake of the worst flooding in living memory.
'For decades successive Governments have failed to take many of the steps needed to make England and Wales more water-friendly and more secure against the extremes of floods and drought.
'This Government has a fantastic opportunity to change that over the next 12 months.'
The Blueprint for Water coalition will hand its scorecard to Environment Minister, Phil Woolas.
Representatives of the Blueprint will also launch the report at an event hosted by Martin Salter MP in the House of Commons today (Wednesday, November 28).
Ellie Robinson, Assistant Director of Policy at the National Trust, said: 'In 2008, a series of policy decisions and reviews offers a unique opportunity to make real and lasting changes to realise the vision we set out within the Blueprint for Water. We urge Government to seize this chance to secure a sustainable future for water.'
.