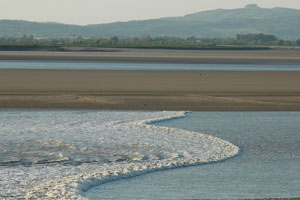 WWT today welcomed the publication of the proposals for the Severn Tidal Power Feasibility Study. However, chief executive Martin Spray also emphasised the importance of a comprehensive environmental assessment of each proposal:
"We absolutely support the use of sustainable, renewable sources of energy so it is interesting to see which schemes are being considered. WWT has submitted information to the government as part of the Strategic Environmental Assessment and continues to offer our unique expertise on wetlands and their wildlife. We strongly urge the greatest care to be taken to properly assess the environmental impact of each of these proposed schemes.
"The Severn Estuary is a very special place and an internationally important haven for wildlife. Since WWT has been based on the shores of the Severn Estuary for more than 60 years we have amassed a wealth of ecological and environmental information regarding the ecology of the region."
The Severn Estuary has numerous designations for wildlife importance, including being a Ramsar site, an EU Special Protection Area, a candidate EU Special Area of Conservation and the surrounding area also contains a number of Sites of Special Scientific Interest. It supports internationally important numbers of overwintering birds as well as being a stopover point for many migratory species on their journeys. The estuary contains unique habitats and is an important migratory run for a number of rare fish species.
Ends
For more information contact Mark Simpson in the WWT Press Office on 01453 891138, or email mark.simpson@wwt.org.uk
www.wwt.org.uk
Key facts
Environmental facts
The estuary has one of the highest tidal ranges in the world, up to 12.5m.
The estuary supports approximately 200km2 of inter-tidal area.
The extent of mudflats has been estimated at 23,000ha.
The River Severn has the highest water flow of any in Britain.
The estuary is fed by major rivers including the Avon, Wye and Usk.
The estuary is classified as hypertidal due to its classic funnel shape, high tidal range and strong tidal currents.
The river flow, tidal range and sediment loads are continually changing producing a dynamic ecosystem.
Ecological importance
The estuary was designated as a Special Protection Area (SPA) by supporting populations of European importance of:
Bewick's Swan – Overwintering
Curlew – Overwintering
Dunlin – Overwintering
Pintail – Overwintering
Redshank – Overwintering
Shelduck – Overwintering
Ringed Plover – Passage
The estuary also supports internationally important (i.e. more than 1% of the international population) of:
Mute Swan – Overwintering
The estuary also qualifies under the SPA designation by regularly supporting more than 20,000 waterfowl.
The average number of waterbirds is in the region of 70,000.
The estuary also supports eleven species in nationally important numbers:
European White-fronted Goose
Wigeon
Gadwall
Teal
Shoveler
Pochard
Ruff
Black-tailed Godwit
Curlew
Redshank
Lesser Black-backed gull
The Severn Estuary has been submitted formally to the EU for designation as a Special Area of Conservation (SAC) under the Habitats Directive. The area is considered to have a high diversity of species and habitats of European importance:
Twaite Shad
River Lamprey
Sea Lamprey
Atlantic salt meadows
Estuary
Mudflats
Sandflats
Sandbanks
Reefs (Honeycomb worm Sabellaria alveolata)
All these habitats and species are threatened within a European context.
Under criteria used to designate a Ramsar site the Severn Estuary qualifies under:
Immense tidal range affecting the physical environment and biological communities.
Unusual estuarine communities with a reduced diversity (except fish) but high productivity.
Important for the sea run of migratory fish between the sea and the river.
Important for migratory birds during spring and autumn.
Diverse fish species with over 110 recorded.
Regularly supports more than 20,000 overwintering waterfowl.
Regularly supporting five species in internationally important numbers: Bewick's Swan, European White-fronted Goose, Shelduck, Gadwall, Dunlin and Redshank.
The Severn Bore
The Severn Estuary is one of only about 60 estuaries in the world (one of 8 in the UK) which support a bore.
The highest wave generated by the bore was 2.8m in 1966.
A wave of 1m is not unusual.
The bore has been measured at speeds of more than 20km/hr.
Notes to Editors:
1. The Wildfowl & Wetlands Trust (WWT) is a leading UK conservation organisation saving wetlands for wildlife and people across the world. With over 60 years experience of wetland conservation, WWT is committed to the protection of wetlands and all that depend on them for survival.
2. WWT operates nine specialist wetland visitor centres in the UK that are visited by some one million people every year from around the world. The centres provide a place to walk, relax, learn, and get closer to nature. Over 60,000 children benefit every year from educational visits to a WWT centre.
3. In total over 2,000 hectares are managed by WWT, including seven Sites of Special Scientific Interest (SSSI), one Area of Special Scientific Interest (ASSI), six Special Protection Areas (SPA), Part of one Marine Nature Reserve and six Ramsar sites, supporting over 200,000 waterbirds.
4. WWT members enjoy free access to all nine visitor centres and are kept up to date with developments through a quarterly magazine.