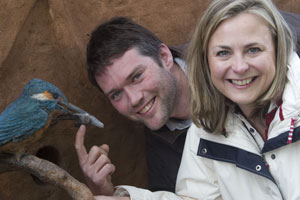 Wildlife film-makers Philippa Forrester and Charlie Hamilton-James encouraged families to get out in the fresh air this Easter and enjoy wildlife from the new Kingfisher Hide at The Wildfowl & Wetlands Trust's (WWT) Slimbridge Wetland Centre.
The popular television presenter and her husband, a respected kingfisher photographer, joined staff, construction workers and funders today to celebrate the official launch of the new hide, which has been specifically designed so that families can get closer to wildlife.
At the opening Philippa said: "It is an enormous honour to have been invited to open the kingfisher hide and it will give both myself and my husband Charlie great pleasure to think that for many years to come, people of all ages and degrees of bird watching expertise will be given the opportunity to get more than just a glimpse of one of our most beautiful and iconic birds.
"Slimbridge is really important to us as a family, we often enjoy a day out here with the boys and it's great to watch them engage with the different species. Every time we come we see something different, so apart from being such a vital hub for conservation and education, Slimbridge is also a great day out for the family."
Since the hide was completed earlier this year, three kingfishers have already returned to set up home in the mud banks directly in front of the building and during the opening, a female kingfisher swooped in for a flying visit to allow all the visitors close up views.
The hide was created using lime render and has a partial turf roof in order to blend into the landscape. It has low windows with views of a bird feeding station, a wetland habitat in the middle of the building and allows close up views of kingfishers and a variety of other bird species.
Philippa added: "When Sir Peter established the Wildfowl and Wetlands Trust as the Severn Wildfowl Trust, he had a clear vision that if we are to conserve our wildlife then we must enable people to see what it is that they stand to lose. The new Kingfisher Hide at Slimbridge will allow families to learn about wildlife together and have some truly unique experiences. Kingfishers are seldom seen, but at Slimbridge the public can come within metres of these iconic birds and get up close and personal to all the wildlife in beautiful surroundings."
.