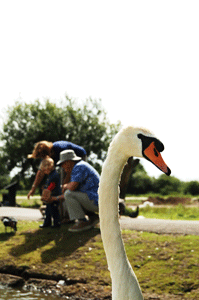 The Wildfowl & Wetlands Trust (WWT) is delighted that one of the UK's leading professional services organisations PricewaterhouseCoopers LLP (PwC) is showing support for its conservation and education work by becoming a corporate patron scheme member.
PwC's UK community affairs programme is focused on promoting social inclusion within its local communities by supporting the areas of environment, education and employability. By becoming a corporate patron, PwC will be able to further develop this commitment to the environment by supporting WWT's national network through its local offices. The partnership also provides much needed funding for WWT's worldwide wetland conservation work.
John Creedon, Corporate Relations Manager, explains: "WWT is delighted to be working alongside PricewaterhouseCoopers, which is committed to playing a leading role in achieving a sustainable future. There is a strong match therefore between our work conserving wetlands worldwide and the vision and practices of PwC. This support will bolster our work further, helping us to build upon our vital conservation projects into the future."
Richard Collier-Keywood, Managing Partner and Board Member with responsibility for Community Affairs at PwC, adds: "We aim to provide our staff with opportunities to support projects at the nine WWT UK wetland centres to develop their team building and leadership skills, as well as their understanding of the importance of wetlands on climate change and ecosystems. We will also encourage staff to link up with our local partner schools to work together on conservation projects at the centres."
If you would like to discuss how WWT could work with your organisation contact John Creedon corporate relations manager on 01453 891 274 or john.creedon@wwt.org.uk.
Further information about PricewaterhouseCoopers can be found at http://www.pwc.co.uk