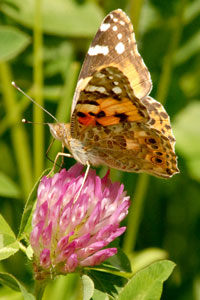 Over three thousand painted lady butterflies were counted at WWT Slimbridge yesterday in what is thought to be the largest migration of the species in over a decade.
Millions of the species have been arriving in Britain in the past week after an amazing 1,000 mile migration from North Africa and reserve wardens at Slimbridge have been frantically counting the fast-flying insects ever since.
James Lees, WWT Reserve Warden said: "We have all heard about the great migration of monarch butterflies in North America but to see this on our doorstep is superb. We are used to seeing great bird migration at Slimbridge but to see butterfly migration in such huge numbers is a real privilege and very exciting."
Butterfly Conservation received reports at the start of the Bank Holiday weekend of sightings of large numbers of these butterflies and believe this could indicate the largest migration to Britain in over a decade.
Butterfly Conservation's Chief Executive, Dr Martin Warren said: "There are literally millions of painted lady butterflies arriving right across Britain with more expected this weekend. We need the public's help to get better information on the nature and scale of this spectacular and unprecedented migration. If you can spare two hours on Saturday morning, take part in our UK-wide count. Visit www.butterfly-conservation.org for more information."
Scientists have been predicting an unusually large migration since late winter. The butterflies originate from the Atlas Mountains of Morocco, where heavy winter rains allowed good germination of the caterpillar food-plants. A Spanish researcher, Constanti Stefanescu had reported seeing hundreds of thousands emerging in mid February and beginning their long flight north. They were seen in large numbers in Spain during April and a few weeks later in France.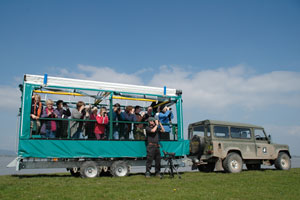 Painted ladies like rough grasslands with knapweed and thistles and the reserve at WWT Slimbridge, which is currently covered in wild flowers and wild clover, provides these butterflies with excellent refuelling snacks during their epic migration.
James Lees added: "It's truly amazing to stand on the River Severn and see thousands of these small dainty butterflies flying past all heading in the same direction and it is remarkable that despite being lighter than paper they are able to navigate and travel thousands of miles over land and sea."