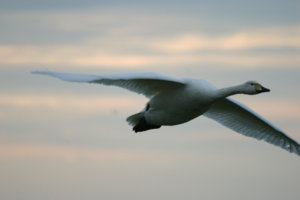 Whooper swan Y6K, which is being tracked using satellite technology, seems to have flown into difficulty on its return migration to Iceland. It was last recorded at 10.46 this morning (Friday) heading towards the cloud of ash from the Eyjafjallajökull volcano.
WWT researchers noticed the bird's position on the online tracking map www.wwt.org.uk/whooper. Y6K is approaching Iceland from the south east, which is one of the main landfall areas for swans arriving in the country, but this is very much in line with the fallout from the volcano. The satellite transmitter attached to the bird is due to give a further reading in two days time, so it will be an anxious weekend for researchers and enthusiasts those following its progress online.
Migration to Iceland
Given that this is the main goose migration period, there is also concern for the welfare of greylag geese, pink-footed geese, light-bellied brent geese, Greenland white-fronted geese and Greenland barnacle geese migrating to or through Iceland at this time.
On Iceland itself, the volcanic eruption is causing concern for the returning waterfowl. A report from WWT's colleague Dr Olafur Einarsson in Reykjavik confirms that that there is dense ash and total darkness to the southeast of the volcano, near the area dubbed "Whooper Airport" because it is where most of the birds land after their migration.
Previous eruptions
Dr Einarsson reports that bird deaths have occurred during previous eruptions of other volcanoes in Iceland, when the feeding areas were covered with ash, causing major problems for farmers and birds. Fortunately at the moment the main area affected, between Vik (in the west) and Kirkjubaejarklaustur (in the east), is primarily an area of sand and gravel, leaving internationally important whooper swan staging or breeding sites still suitable for swans.
Y6K is being tracked as part of WWT's ongoing conservation work with whooper swans. The project aims to determine the migration routes that the swans take, the heights and speeds at which they fly, and the effects of weather conditions on their flight patterns, and is being carried out in collaboration with COWRIE (Collaborative Offshore Wind Research into the Environment) and DECC (Department of Energy and Climate Change).