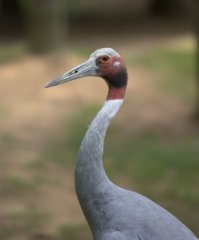 A partnership led by WWT has been awarded funding totalling over $350,000 by the Critical Ecosystem Partnership Fund (CEPF) to fully establish and conserve designated Sarus crane reserves in Cambodia.
The two sites that are the focus of the project are Boeung Prek Lapouv (which covers 9,276 hectares) and the recently designated Kampong Trach (1,106 hectares).
Together, the areas support significant numbers of Sarus cranes – over 300 birds, which is over 20% of the regional population – during the dry season. The species is currently in decline and considered globally threatened.
The sites are also important representative areas of Lower Mekong seasonally inundated grassland – a habitat which has suffered massive conversion to agriculture – and provide important benefits to local communities.
Threats like exploitation of wildlife, agricultural encroachment, agro-chemicals pollution, inappropriate fishing methods, hydrological changes and consequent vegetation changes, use of fire, and invasive alien plants, threaten not only the cranes and other biodiversity, but also the ability of these sites to provide these benefits to people.
While conservation groups and government have already established the sites as Sarus crane reserves, the WWT partnership, supported by Birdlife International, will contribute to their long-term sustainability by training and supporting local conservation groups, developing community-based eco tourism, supporting agricultural improvements and increasing support among local people for site conservation.
Boeung Prek Lapouv and Kampong Trach are two of the three most globally important non-breeding sites for the South-east Asian race of Sarus crane. The third is at Ang Trapeang Thmor, which has been a reserve since 2000 (and there is also a fourth situated in Vietnam).
The Sarus cranes usually arrive in late November and remain until early May when they begin their migration to the wetlands in the northern and eastern plains in Cambodia where they breed.
Partners of the project also receiving funding from CEPF are Mlup Baitong, Cambodian Institute for Research and Rural Development and Chamroein Chiet Khmer.
The Critical Ecosystem Partnership Fund is a joint initiative of l'Agence Française de Développement, Conservation International, the Global Environment Facility, the Government of Japan, the MacArthur Foundation and the World Bank. A fundamental goal is to ensure civil society is engaged in biodiversity conservation.