Hello All
Half term is coming to a close and I've finally found time to sit down and write my diary. It's been a great week and the 'Ecoteers' activities will continue until Sunday. Staff and volunteers have worked tirelessly to keep families entertained, with activities including dragonfly making, sunflower seed planting and a session called 'Poo-ology'! I have to admit to being a little suspicious of the latter activity but the children love it and they go away having learnt about the diets of different birds and some basic identification skills.
Over the coming weeks I thought I'd start to tell you a bit more about the team here at Arundel and my first 'victim' is Peter Ashley. Peter has been volunteering at Arundel since 2003, he is an incredibly loyal supporter and spends three mornings a week at the centre. Two mornings a week, Peter volunteers in the office logging customer comment cards, processing vouchers and recording the number of visitors who have participated in the activites we have on site such as the boats.
Peter does a lot of work for Paul, our Grounds Manager, too. He updates the Sussex Ornithological Society (SOS) website with our sightings and passes on other species observations for Paul to forward to the Sussex Biodiversity Records, held by the Sussex Wildlife Trust. Recently he has also started going through diaries dating back to 1977 (the year after the centre opened) creating electronic records of the sightings over the years. These are incredibly useful records to have as Paul can then see how the diversity of the grounds has changed over the years.
We now use Ordnance Survey points to record the exact location of sightings, in particular exciting plants such as the Marsh Orchid or Small Teasel. Having this information also allows us to track changes in the phenology of the centre i.e. the dates when species are first spotted each year. Even with all this survey data, it's great to see that new species are still being found from time to time. Last year, a Club-tailed Dragonfly was recorded for the first time on site, much to Paul's delight!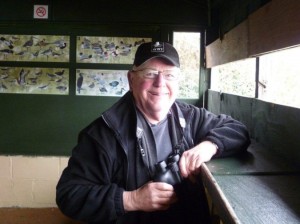 Peter in the Ramsar hide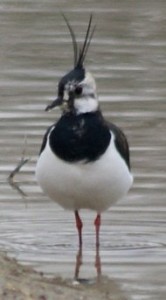 Lapwing by Peter Ashley
In 2004, Peter started as a 'Guide in a Hide' and he has continued to do so every Sunday morning since then. Peter's hide of preference tends to be the Ramsar hide which offers great views across the new wet grassland as well as the scrape area in front of the Sand martin hide. He heads out at around 11am armed with spotting scope, binoculars and a couple of ID books. Having Peter there is a real bonus for our visitors who may be new to birding and not have their own optics. It's easy for some to walk into a hide, have a brief look out and think that there is nothing there. Peter can then point out that actually there may be beautiful Teal dabbling around the edges, Snipe lurking in the reeds and Oystercatchers and Lapwing nesting on the islands. In having this experience, these visitors may then be inclined to look a little harder out of the other hide windows and get so much more out of their visit.
We're delighted to have a 'Guide in a hide' on site every morning and afternoon at the weekends. We've been building up our team of guides with other equally knowledgeable and helpful volunteers so do look out for them on your next visit. Even if you are an experienced birder they can give you any tip offs about what's around that day and it's always nice to share stories about recent sightings.
If you're interested in becoming a volunteer get in touch, you don't need to be an expert, just enthusiastic and keen to help!
Have a lovely weekend.
Liv