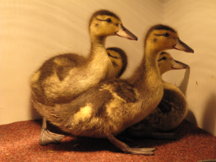 These gorgeous African Yellowbills are one of the first broods this year to benefit from our new coop developments…
After 10 hard-working years our old coops were in need of retirement, so our craftsman Paul set to with some laminated marine ply to make us 10 shiny new ones! You may wonder why I am so excited about a few lumps of wood and nails, but these coops are a bit of a revolution up in the duckery…
Firstly they are in-situ so that we do not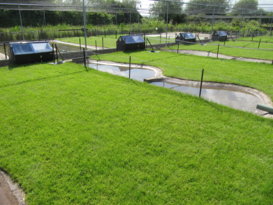 need to dirty the nice new turf with our hazardous footwear every day. They are built into the fence over the waste channel; all faeces and food therefore falling through without sallying the pond water quality. Importantly the birds think of them as a naturally safe place to be as they are not placed bang in the middle as was our previous design. Now that tours are visiting the Duckery every day, if the birds feel at all frightened they can simply put themselves safely to bed and out of sight!
Hopefully these coops will help increase our rearing success in 2011 through minimising stress, increasing security from predation and maximising surface area. Whether this will turn out to be true (or alternatively my secret wish considering the crazy May productivity we are experiencing) nobody knows. With 7 down and 3 to go however, Paul cannot build them quick enough!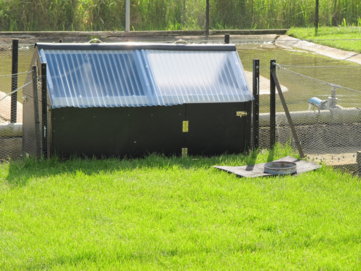 Post a comment
30/05/11 Kathy Valier: Sounds like a coop coup! (Sorry, I couldn't resist.) A bigger picture of the final product, please? Sounds like the new coops are meeting your expectations: the birds are happier, cleaner, and safer and there's less clean-up. Good job!