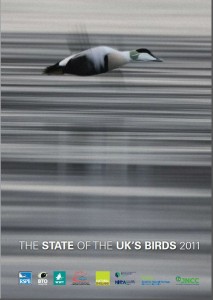 Two studies hitting the news this week have highlighted big changes for waterbirds. On Monday, a Finnish study measured how much later wildfowl in Northern Europe are setting off on their autumn migrations. Yesterday, the State of the UK's Birds reports dramatic changes in wintering waterbird numbers visiting our wetlands.
Both findings reflect the very rapid changes that are happing to the world around us though, as always when you dig a little deeper, things are more complex than they initially seem.
Short-stopping
Milder winters in recent decades have undoubtedly caused, at least in part, some significant changes to migration patterns. Some species now migrate later, or travel less far so they can overwinter closer to their breeding areas: a phenomenon known as 'short-stopping'.
But it'd be a mistake to assume that in every case. If there are fewer waterbirds in the UK, they're not necessarily all safely wintering in continental Europe.
An international count of Bewick's swans in 2005 confirmed that the steep drop we'd seen in numbers was not balanced out by an increase in numbers elsewhere in Europe. They really are suffering a decline, not simply short-stopping.
More recently, coordinated counts from the Baltic Sea have strongly indicated that the declines seen in the UK of long-tailed duck and velvet scoter are happening across the flyway; it appears many seaducks are in serious trouble.
However, for seaducks and some other species, internationally coordinated surveys are not yet in place. Without the big picture, the challenge is working out what to do about the declines reported in the State of the UK's Birds.
We need to look at the whole population to see how much is down to conservation problems and how much is because they've adapted to the change in climate and are wintering elsewhere.
Understanding this is crucial for us to determine what to do next. The key to unlocking these secrets is working with our counterparts throughout their flyways to develop a more comprehensive survey effort, e.g. through the International Waterbird Census – something that WWT is a keen supporter of.
Protected areas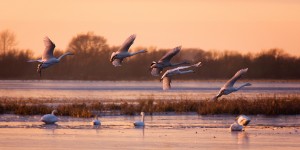 Although, overall, numbers of wintering waterbirds have been in shallow decline since the late 1990s, some species have actually been on the increase. To the untrained eye, whooper swans are indistinguishable from Bewick's swans, but their fortunes have been quite different. Whooper swans have reached record numbers, including at their main wintering site: the Ouse washes in Norfolk.
In this case, all the monitoring done by our reserve wardens and teams of volunteers across the country really pays off. We know which species we need to focus our conservation efforts on.
But again, it's not so simple. Whooper swan numbers may be increasing, but as they do they'll have to spread out more so they're not competing with each other for food and roosting space. So nature reserves, and sympathetic management of the wider countryside, are just as important as they are for species in decline.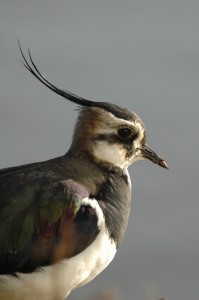 Over the years WWT's reserve managers have carefully tweaked the reserves to accommodate these changes that we've been observing. For instance, the number of European white-fronted geese arriving at WWT Slimbridge each winter has changed from around 6,000 to about 500 in the last 30 years.
However, over the same period species such as lapwing, golden plover and little egret have increased greatly in numbers. For the white-fronted geese that still come the goose pasture of Slimbridge still provides vital grazing for them, particularly with the threat of more frequent winter cold snaps. But at the same time the reserve managers have managed to keep the water levels higher in areas, which has really helped the lapwing and golden plover.
The challenge is to continue provide what is needed for all these species during this period of rapid change.