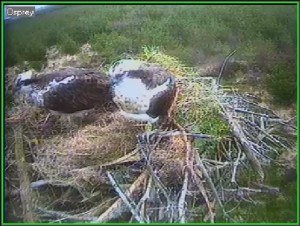 April showers turned wintery today with a heavy hail shower at 1.15pm. Our female osprey was sitting tight on the nest which she has now built up considerably over the last few days. Not many visits from our yellow ringed male this morning but he was around the nest most of yesterday with yet more fish and  mating attempts.
On Tuesday there were 5 mating attempts in an hour with a couple looking to be successful. It looks as though our regular breeding male osprey AW has not returned and yellow (D8 or DB) looks to have taken his place at the nest. I hope to get confirmation on his ID very soon, I'm going goggle-eyed watching recorded footage frame by frame! Last year the first egg was laid on the 19th of April so we could have a first egg next week.
No sign of yet of ospreys at the nest that AW hatched out in in 2004 at Wigtown Bay although there has been an osprey seen fishing in the bay.