Even wetter Avenues this morning, so walking boots or wellies are essential for reaching the Avenue Tower and Saltcot Merse Observatory!
We will do our best to make them accessible, but there is little we can do at the moment.
Last night we conducted our first roost count of the Soprano Pipistrelles in the Visitor Centre roof. 348 bats emerged from the roost, a fantastic count and worth the late night!
The Oystercatchers on the Teal Pond have hatched at least one chick so far, with the rain today the parents will be sheltering the downy chick so a lot of patience is required in order to see them.
The same goes for the Osprey chicks, all three are doing well and we have had a brief glimpse of them as the rain eased earlier. The photo below is from yesterday when the chicks were left alone briefly, although one of the parents is likely nearby eating a fish!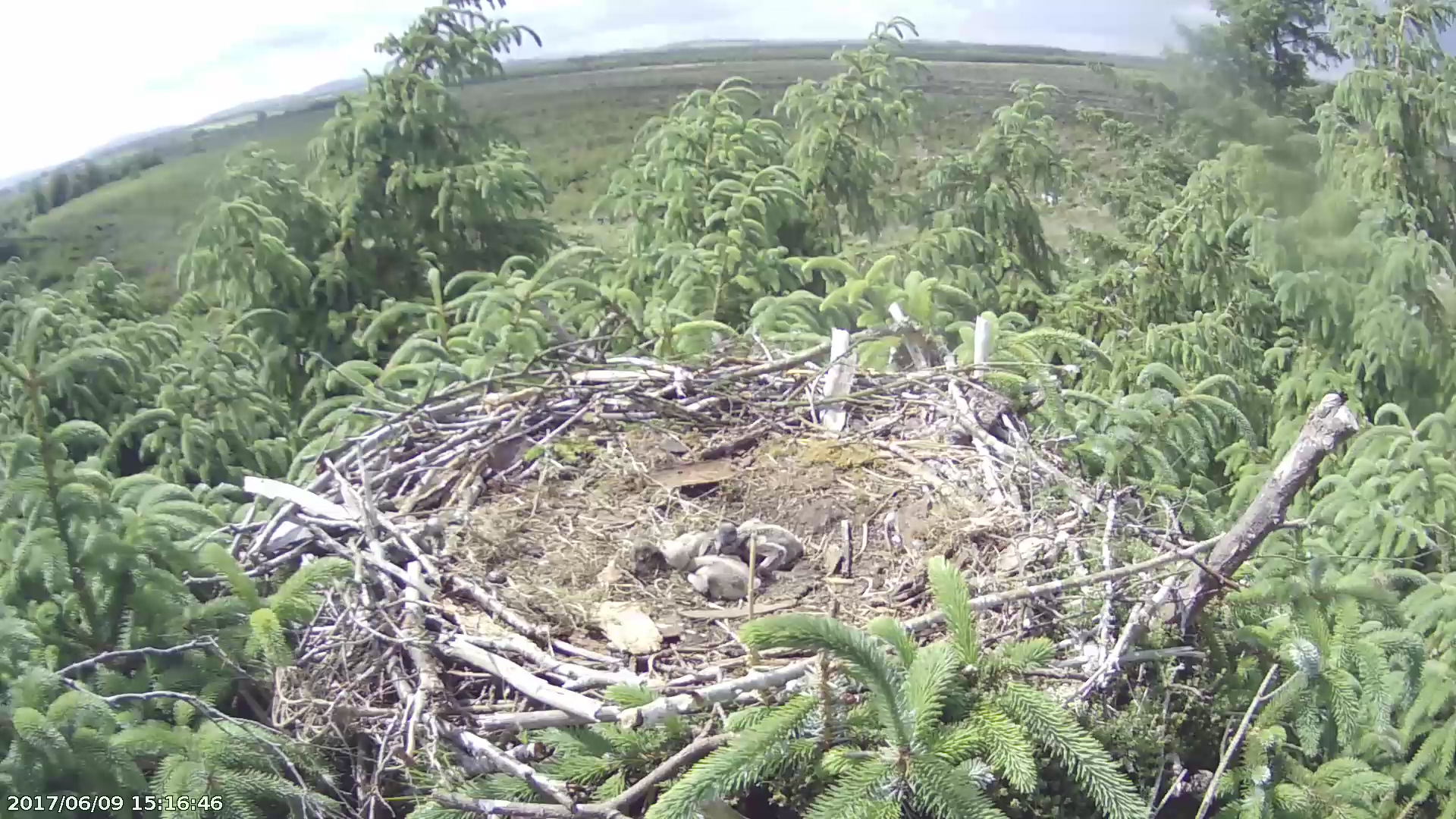 Todays high tide is at 13:46, 8.7m
Around the reserve today:
Wildflowers
Hawthorn
Elder flower
Guelder Rose
Dog Rose
Red Campion
Cuckoo Flower
Herb Robert
Northern March Orchids
Common Spotted Orchid
Lesser Trefoil
Common Vetch
Tufted Vetch
Forget-me-not
Mousear
Red Clover
White Clover
Insects
Peacock Butterfly
Large White Butterfly
Orange Tip Butterfly
Green-veined White Butterfly
Small Tortoiseshell
Large Red Damselfly
Common Blue Damselfly
Four Spotted Chaser Dragonfly
Common Darter Dragonfly
Early Bumblebee
Tree Bumblebee
Common Carder Bumblebee
Red-tailed Bumblebee
Beefly
Drinker Moth caterpillar
Mammals
Brown Hare
Weasel
Roe Deer
Fox
Badger
Otter
Soprano Pipistrelle Bat – evening
Wood Mouse
Whooper Pond
Whooper Swan 2
Mute Swan 1
Mallard 27
Moorhen 2
Canada Goose 1

Folly Pond
Mallard 9
Moorhen 2 + 2 chicks
Shelduck 4
Common Sandpiper 1
Mute Swan 2
Oystercatcher 2
Black-headed Gull 2
House Martins collecting mud and nest building on Farmhouse Tower

Teal Pond
Mute Swan 1 – nesting
Swallows – with chicks on the left hand side and above entrance – enter slowly and quietly
Oystercatcher 2 – nesting on raft – 1 chick so far
Avenue Tower
Lapwing 8 – nesting
Black-headed Gull 10 – nesting
Shelduck 6
Barnacle Goose 1
Greylag Goose 1
Moorhen 2
Longhorn Cattle 3
Saltcot Merse Observatory
Peregrine
Kestrel
Osprey
Buzzard
Skylarks singing
Hebridean Sheep 10
Avenues & Feeders
(notable species)
Reed Bunting
Sparrowhawk
Coal Tit
Long-tailed Tit
Goldfinch
Greenfinch
Linnet
House Sparrow
Tree Sparrow
Treecreeper
Great-spotted Woodpecker
Chiffchaff
Willow Warbler
Sedge Warbler
Blackcap
Garden Warbler
Twitter & Facebook
Follow us on Twitter @WWTCaerlaverock for instant WWT Caerlaverock bird news, wildlife news and upcoming events to your mobile phone or computer. This is a great way to get instant news as we update from our mobile phones as we are finding the birds.
You can also 'Like' us on Facebook http://www.facebook.com/wwtcaerlaverock.
Osprey Webcam
See live footage of our local Osprey nest here: http://www.wwt.org.uk/wetland-centres/caerlaverock/experience/ospreys/
The camera is online between 10am and 5pm daily.
joe.bilous@wwt.org.uk