We spooked a barn owl as we arrived at the hotel at 2.30am. It wheeled up under the streetlight and disappeared into the trees. Once we checked in, it was heads down for a welcome few hours sleep, before completing the final couple of miles to Martin Mere, where a simply amazing breakfast was waiting for us in the cafe.
After breakfast, Reserve Warden Tom Clare took Mike round the reserve. Mike got a full briefing on feeding the whooper swans, which he'd be doing solo later, in front of a full crowd of volunteers and visitors. The whoopers may look similar to the Bewick's swans, but they're a bit bigger, as is the barrow of grain used to feed them from. It looked like it was taking all Mike's strength to stop it from tipping over in the strong winds.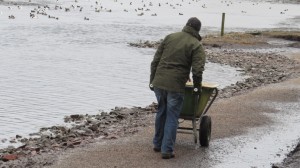 Tom proudly showed us one of the reserve's key assets – Martin Mere's herd of English Longhorn cattle – beautiful beasts they are too, and they help keep the reserve in tip top condition.
After a quick tour of the reedbed, it was off to see the beavers. It was incredible to see how they have modified their enclosure, felling the trees and constructing their vast and complex lodge. It was a real priviledge to have a close look at their work.
After lunch, Mike joined BBC Lancashire's John Gillmore for an outside broadcast from Martin Mere. Then it was a full afternoon of swan feeding before prepping for this evening's talk to yet another sell out crowd.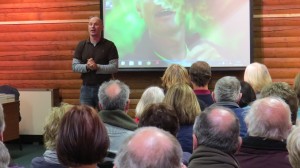 It will be a quick turnaround after the show, as we're dashing down to Birkenhead to catch the 10pm overnight ferry to Belfast. Looking at the gale howling outside the window, I hope neither of us succumb to seasickness!