The date has been set for the launch of the canoe safari for our visitors: Monday 11 April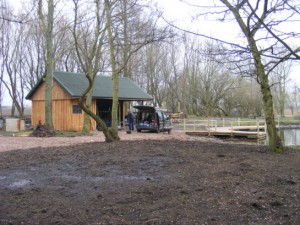 The canoe safari will be open everyday from 11 April until Sunday 31 October starting at 10am in the morning and the last canoe will go out at approximately 3.30pm. Obviously we can have groups come along outside of these times.
The cost for the canoe will be £5 a boat (£1.66 each if 3 in a boat) and you will be able to stay on the experience for up to 45 minutes.
In addition to the canoe safari on 11 April we will also have a new play area by the safari and a permanent den building area. There will also be a kiosk with plenty of picnic space. The boat store is being constructed at the moment, please see a picture below.
Work will continue after the 11 April though as we wil be installing compost toilets that will hopefully be up and running by early June. The electric boat will start about a month later once we are happy that the canoes are up and running with no issues.