Afternoon all
I'm sat looking out at the rather murky weather which is a marked difference from the beautiful sunny days of the past fortnight. Gardeners across the county have probably breathed a sigh of relief as we were in need of a drop of rain but I am missing the sunshine!
Seasonal changes are most definitely afoot, the Dogwood outside my window has sprung into life, it's red limbs suddenly covered in bright green shoots. Walter, my 'pet' Water Rail has disappeared, I'm hoping he's off wooing a female in some Polish reed bed and that he hasn't been caught by a Stoat! Although Walter has gone, the Nuthatch has made a welcome return, perfectly living up to it's name as it bashes a peanut on the top of the bird table.
The pair of Reed Buntings are also making regular appearances. The male's head plumage is turning a denser black and the female is looking stunning with her bold eye stripes.
The Bullfinches in the Prunus trees between the office and visitor centre have also been showing beautifully. I've never really had a chance to see them so close up before so it's great to look up at them feeding on the buds with their intense pink colouring shining in the sun. I've pestered various visitors to get a good shot when I see them passing with their giant lens' but so far only Paul, our Grounds Manager, has managed to get a good one!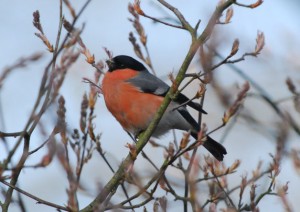 Bullfinch feeding on buds by Paul Stevens
I have been lucky to receive some other photos from members this week though. Graham, a very regular visitor and friend of the centre, photographed one of the Chiffchaffs which returned to the reserve a couple of weeks ago uttering it's characteristic two-part call.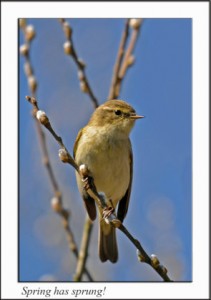 Chiffchaff by Graham Turner
Here's a bit about the Chiffchaff from Wikipedia: "It is a migratory passerine which winters in southern and western Europe, southern Asia and north Africa. Greenish-brown above and off-white below, it is named onomatopoeically for its simple chiff-chaff song. The female builds a domed nest on or near the ground, and assumes most of the responsibility for brooding and feeding the chicks, whilst the male has little involvement in nesting, but defends his territory against rivals, and attacks potential predators."
Graham and his wife Ina came to visit last Wednesday, the day most of Arundel was without power due to planned maintenance work in the town. This was also the day Martin Spray, our Chief Executive, chose to pop in for a catch up so it was lovely to have a walk round the grounds with him, knowing that my computer wasn't working so I couldn't be doing any other work! Martin was really pleased with the hard work of the grounds team and delighted to hear that the Bearded Tits spotted last week have been seen again last week so fingers crossed they will become a more regular sighting.
On our walk we bumped into another member, Ray, who travels to us from Dungeness! He set up his tripod next to the stag beetle display in the hope of capturing a shot of a Firecrest and he wasn't disappointed!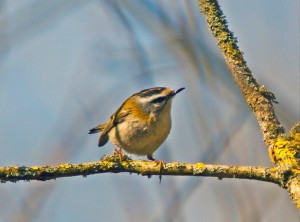 Firecrest by Ray Jones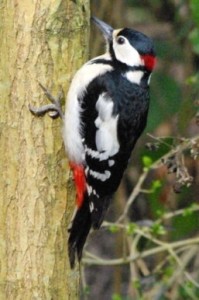 Great Spotted Woodpecker by Dawn Scott
Ray, Graham and Ina had come prepared for the power cut and brought a picnic which they kindly shared with me in the Gallery. It's so lovely getting to know our members and I spent an enjoyable break drinking coffee whilst watching grass snakes swim across Swan Lake.
As spring gets into full swing the sightings board in our staff tea room is constantly updated with the first sightings of various birds, plants and butterflies. I try to get out in the grounds to learn as much as possible and we're working on sharing as much as we can with our less experienced visitors so look out for our new "Look out for…" signs to make sure you don't miss anything!
Finally, I am including another lovely picture of a Great Spotted Woodpecker taken by Dawn, who I regularly pester for photos!
Have a great week, Liv
p.s. The seven Nene goslings are doing well but I'm sorry to say that the Coscoroba Swans have not been successful with their first clutch of eggs. We hope it is still early enough in the season for them to have another try.