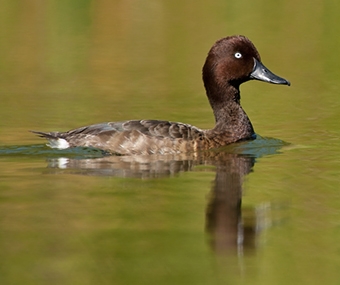 £10 could pay to vaccinate a brood of ducks for release into the wild.
£25 could pay for a floating food enclosure to ensure they eat enough.
£50 could pay to transport a brood of ducklings from the breeding centre to the lake.
£100 could pay towards employing a Malagasy fieldworker to monitor the birds after they are released.
Help us release the Mad poch back into the wild
Mission Madagascar has already achieved so much, including saving the Mad poch from extinction and we now have a captive population of 90. We now face the next critical phase of our mission; releasing the Mad poch back into the wild.
We have a plan to do this, but need your help to put this into action.
Here's our 8-Step Release Plan
Our floating aviaries are being trialled at Slimbridge with tufted ducks (very similar to the Mad poch). If you're passing by Slimbridge this summer you'll be able to see the tufted ducks in the floating aviaries. In August 2017 we'll be shipping the aviaries to Madagascar.
In Madagascar, the aviaries will be transported to Lake Sofia along some of the most challenging tracks I've ever seen.
We'll build 'holding aviaries' by the lake and we'll reassemble the floating aviaries on the water, in October 2017.
We'll also work with local farmers and communities to raise awareness of the pochard's needs, and help secure the environmental future of the lake.
The captive-bred birds will be transported to the lake in autumn 2018. It's an arduous day's drive and it's vital that the birds arrive strong to cope with the rigours of the release.
The ducks will be placed in the floating aviaries on the lake to give them time to adjust to their new home.
After about 10 days we'll open the doors of the floating aviaries for the ducks to explore! This is the nail-biting part. Will they settle into their new home?
We'll keep a careful eye on the birds after release to ensure they remain healthy, and to identify what we need to do to the lake's ecology so that it can support the birds long-term.
Your donation today will give the Mad poch a better chance for survival.