£10

could help buy temporary electric fencing to keep nests safe from predators while eggs develop

£25

could help us work with local communities, farmers and landowners to protect important habitats for curlews

£40

could buy a small nest camera to monitor curlew nests

£100

could help us train two volunteers to search for nesting pairs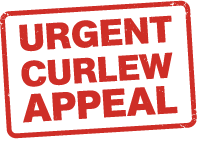 There is no time to lose. Please help by making a donation today. Thank you.