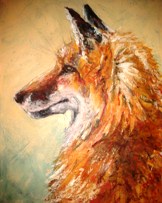 On Thursday 2 May, The Gallery at Castle Espie Wetland Centre will be offering a unique and exciting opportunity to view 'Land, Air & Sea' art exhibition by the Majury family.
The inspiration for this exhibition reflects their passion for our environment whether it be the sea, wildlife, the changing landscape or memories that each of these areas can evoke.
Emma Majury is an artist and printmaker. Her main areas of research include nostalgia, collecting and archives. She is also interested in working with non-toxic printmaking methods. She is passionate about vintage tins and packaging, old and often obsolete vehicles, buildings with a sense of history and old paper ephemera, whether a postcard, scribbled note or printed receipt.
Sarah Majury has always been fascinated by animals. Many of her paintings are portraits of animals, hoping to capture the character of that individual. Sarah says, 'I try to capture that glint in the eye, the thought, the plan, the next move.' Sarah graduated from the University of Ulster and now works as an artist and printmaker. She has exhibited in group and selected exhibitions in the UK and overseas.
Lyn Majury's paintings in this exhibition are influenced by the changing seasons and draw attention to quiet corners of the landscape that have been overlooked as busy people whiz by. Some paintings reflect her passion for recycling so the mundane and discarded can end up as part of the fabric in an acrylic painting. Some paintings are inspired by found quotes. Lyn has had two solo exhibitions to date and has exhibited with clubs and societies over the past 30 years. Societies include the Pastel Society of Ireland, the Ulster Society of Women Artists and the Art Society of Ulster.
The exhibition will be opened on Thursday 2nd May at 7pm by Paul Walls ARUA and will run until Sunday 9 June 2013. The gallery is open daily from 10am to 5pm and entry is free.