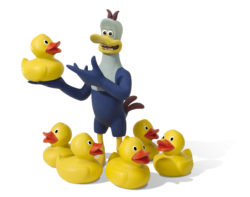 WWT Llanelli Wetland Centre has lost some rather special ducks. A number of our GIANT yellow ducks have gone missing and we need children to help us and Dusty Duck find them this Easter holidays as part of Dusty's GIANT Duck Hunt.
You'll need to use all your special detective skills to track down these 9 cheeky birds and be in with a chance of winning a yummy chocolate treat.
Dusty Duck is WWT's new children's character, exclusively designed by the world-famous Aardman studios to help us get children closer to nature.
This year for the first time Dusty will be joining our annual GIANT duck hunt. He will help children use their finely honed detective skills to track down elusive GIANT yellow birds hidden high and low around our stunning grounds in return for a delicious chocolate treat.
Dusty's GIANT Duck Hunt is taking place daily from Saturday 8 April – Sunday 23 April, click on wwt.org.uk/llanelli to find for more information about something a little bit different to take the family to this Easter.
Nigel Williams, Centre Manager from WWT Llanelli said:
"Our wardens are great at counting up all the baby ducklings, goslings and cygnets waddling around our visitors' feet at centres during the Easter holidays. But for some reason they keep missing these cheeky GIANT yellow rubber ducks – so come along to your local wetland centre and help us find them!"
As well as the GIANT duck hunt, there is a range of other family activities during the Easter holidays including; den building, mini beast hunts, pond dipping and a chance to make your own Easter crafts to take home.
WWT Llanelli is fully accessible with buggy and wheelchair friendly pathways, comfortable hides and disabled and parent & baby facilities.
Normal admission charges apply to enter WWT Llanelli Wetland Centre.
WWT Llanelli Wetland Centre is open every day (except Christmas Eve and Christmas Day) from 9.30am to 5pm and parking is free of charge. Visit the web site www.wwt.org.uk/llanelli to find out what's on all year round at Llanelli and the other eight WWT Wetland Centres.