UPDATE
We now have a pair of Osprey on the local nest, the photo below taken from our camera which you can see in the Visitor Centre at the moment and will be on the website very soon.
It is the same pair as last year, the female has a ring (white TR) and the male has distinctive marking on its head.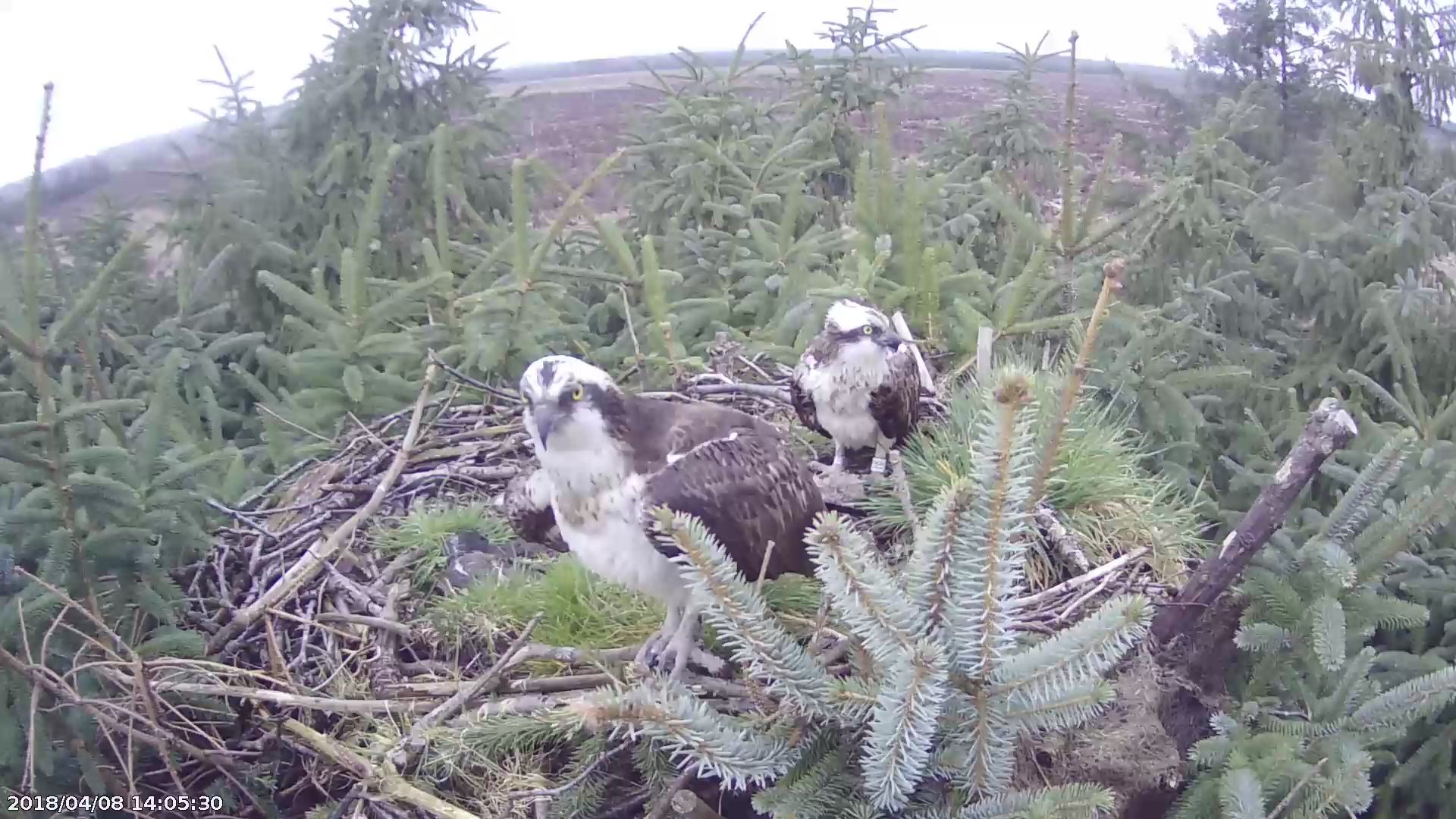 A misty start to the day but it is now lifting quickly.
A single Chiffchaff was singing in the Avenue just past the Peter Scott Observatory and just a single Whooper Swan on the Whooper Pond with the Mutes.
We are watching the TV in the Visitor Centre closely to see if the Osprey which landed on the nest yesterday returns today. It had a white ring on its leg which could mean it is the same female as last year (white TR). We will get Osprey webcam up and running on the website as soon as possible.
Barnacle Geese: around 5,000
Around the reserve:
Whooper Pond
Mute Swan 30
Mallard 40
Tufted Duck 25
Greylag Geese 1
Canada Geese 2
Moorhen 4
Folly Pond
Teal 70
Wigeon 3
Shoveler 20
Shelduck 3
Mallard 6
Oystercatcher 2
Moorhen 2
Black-tailed Godwit 25
Redshank 72
Mute Swan 2
Tufted Duck 6
Teal Pond
Mute Swan 2
Tufted Duck 5
Gadwall 1
Moorhen 1
Black-headed Gull 2
Avenue Tower
Teal 10
Wigeon 25
Black-headed Gull 23
Mute Swan 2
Saltcot Merse Observatory
Kestrel
Buzzard 1
Peregrine 2 adults (pair)
Merlin 1
Marsh Harrier 1
Mute Swan
Barnacle Geese
Pink-footed Geese
Shelduck
Wigeon
Red-breasted Merganser
Mallard
Golden Plover
Dunlin
Knot
Lapwing
Oystercatcher
Curlew
Little Egret
Great Black-backed Gull
Black-headed Gull
Common Gull
Herring Gull
Hebridean Sheep 9
Longhorn Cattle 2
Avenues & Feeders
(notable species)
Reed Bunting
Sparrowhawk
Coal Tit
Long-tailed Tit
Goldfinch
Greenfinch
Linnet
House Sparrow
Tree Sparrow
Treecreeper
Great-spotted Woodpecker
Goldcrest
Chiffchaff
Webcam
The winter webcam is now showing the Whooper Pond during the day and the badger feeding area from 5pm onwards.
https://www.wwt.org.uk/wetland-centres/caerlaverock/experience/webcam/
Twitter & Facebook
Follow us on Twitter @WWTCaerlaverock for instant WWT Caerlaverock bird news, wildlife news and upcoming events to your mobile phone or computer. This is a great way to get instant news as we update from our mobile phones as we are finding the birds.
You can also 'Like' us on Facebook https://www.wwt.org.uk/wetland-centres/caerlaverock/
joe.bilous@wwt.org.uk