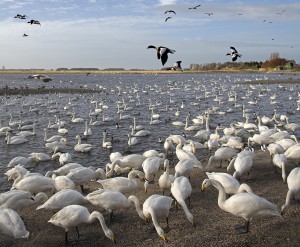 A dusk count yesterday morning of Whooper Swan produced a record number of 2480 birds at WWT Martin Mere Wetland Centre.
Centre Manager, Andy Wooldridge, said: "We usually get peak numbers of Whooper swans in mid to late December so I still think numbers will continue to rise.
"The highest previous count was 2100 in 2010 which also coincided with a cold snap. The recent cold weather has certainly encouraged birds which roost elsewhere to visit Martin Mere allowing us to offer a fantastic spectacle during the swan feeds."
Whooper swans spend the summer in Iceland and winter in the UK.  Approximately 7% of the population of Whooper swans visit Martin Mere over the winter offering spectacular displays that we call 'Swan Spectacular'.
Everyday, the swans are fed at 10.30am and 3pm from Swan Link hide and at 10.45am and 3.30pm from Raines Observatory. The 3.30pm feed also includes a wardens talk to learn all about these amazing animals.