Hello flamingo followers. Another WWT flamingo update to bring you virtually closer to the lives of our flamingos and what's going on with the pink birds whilst we're having to #StayHomeStaySafe. This is a special edition of the flamingo diary because it not only covers some news and insights from all of the WWT flamingo flocks (I know- go me!) but it also celebrates the very first International Flamingo Day, brought to the world by the IUCN Flamingo Specialist Group, whose home is at WWT Slimbridge.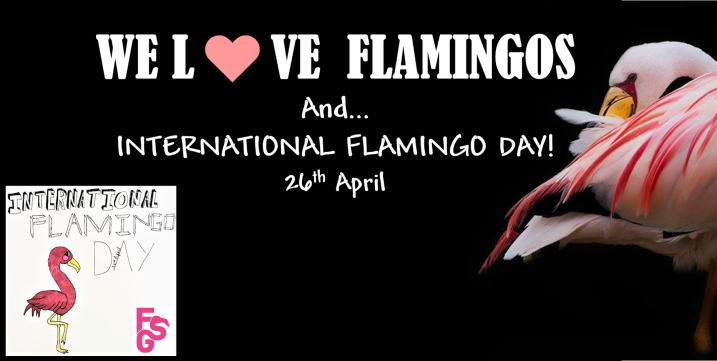 International Flamingo Day was started to provide a focal point for everyone, wherever they are in the world,to celebrate the fabulous flamboyance that are flamingos. From now on, the 26th April will be International Flamingo Day (IFD) and a chance to spread the word about why flamingos are so fantastic. The IUCN Flamingo Specialist Group came up with the date for IFD based on a very famous painting of this iconic bird by a very famous ornithologist. John James Audubon (1785-1851) was renown for producing the book "Birds of America" that contained life size pictures of the birds he saw around him. And one of these paintings was of the American (or as we call it Caribbean) flamingo, which is one of the most famous depictions of a flamingo ever painted. As such, the Flamingo Specialist Group felt it most fitting that Audubon's birthday (26th April) be chosen to celebrate the bird he loved so much and captured in art so beautifully.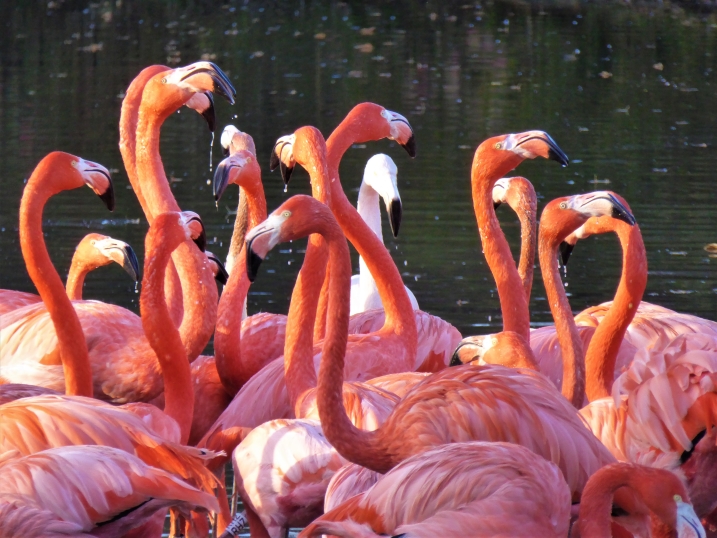 It would great if we could all get to see life-size flamingos right now, but as we cannot, the next best thing is to get a "keepers eye view" of what's happening with the various WWT flocks. This flamingo diary will bring the flamingos into your front room for this first International Flamingo Day. A massive thank you to dedicated members of the living collections teams at WWT Slimbridge, WWT Llanelli, WWT Martin Mere and WWT Washington for sharing pictures and stories for you all to experience.
And here's an experience not many of you may get to see; feeding time at flamingo level for the big greater flamingo flock at WWT Slimbridge! Living collections warden Phoebe is one of the animal care staff who's working hard during the closure to keep the birds "in the pink". Phoebe took this clip of dinner time with the greater flamingos- as you can see, they don't always have the best of table manners.
Keeping the birds well fed and well cared for is, as always, paying rewards. Over the wintertime, when the birds may have to come inside (due to the bad weather), the extra warmth and comfort of their houses keeps the flamingos in good condition ready for spring and summer courtship display. Here's a photo (below) from the WWT Llanelli flock of Caribbean flamingos, sent in to us from Llanelli grounds warden Ryan.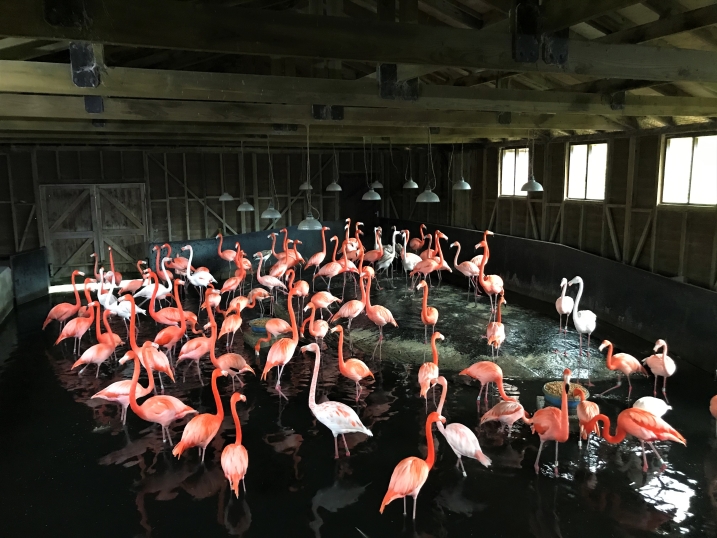 There's also been lots of courtship display at WWT Llanelli too! Ryan also captured the birds performing one of their most visible breeding dances- head flagging. When the flamingos mill around and wave their heads from side-to-side. You can see the birds getting ready to do some high energy dancing in the video that Ryan sent in (below).
Spot the tallest bird in the group. These are male flamingos. And whilst both girls and boys dance together, it's always the biggest, tallest male flamingos that start off the flock's coordinated dance moves. Boys on the left, girls on the right, everyone is dancing (in the photo below). But being very democratic animals, both sexes chose their breeding partner together.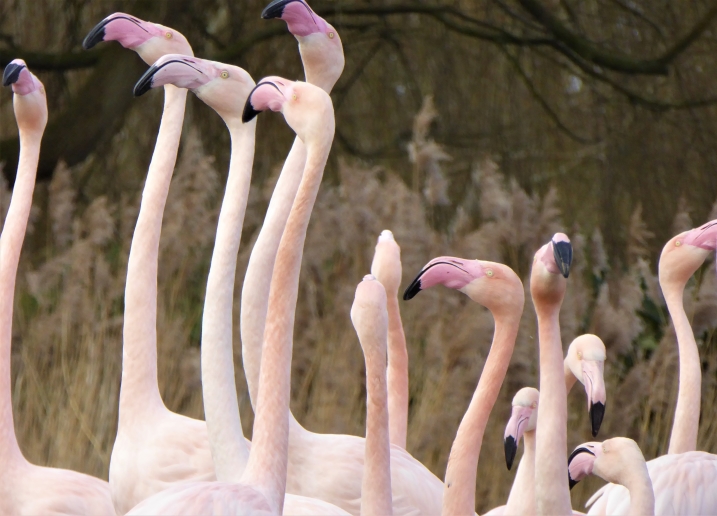 Keeping a good supply of fresh water is important to the health of all of our flamingos. And those members of staff still at work at each centre will be keeping a check on the supply and flow of water into each pool. It's estimated that flamingos spend around 30% of their time each day preening. That's around 20% more time than the "average" species of bird. You can see from the video below of the WWT Martin Mere greater flamingos that preening is really important to how each bird can keep its beautiful feathers in the best condition. Feathers that will be used to impress a potential mate during the courtship dance.
You can see the effect of all of this hard work and dedicated care in the photo below of the WWT Martin Mere Chilean flamingos, even if you cannot be there in person to see them. Very healthy birds, in the pinkest of pink. Looking forward to greeting visitors again when we can all go outside safely. This beautiful photo was taken by Martin Mere volunteer photographer Helen.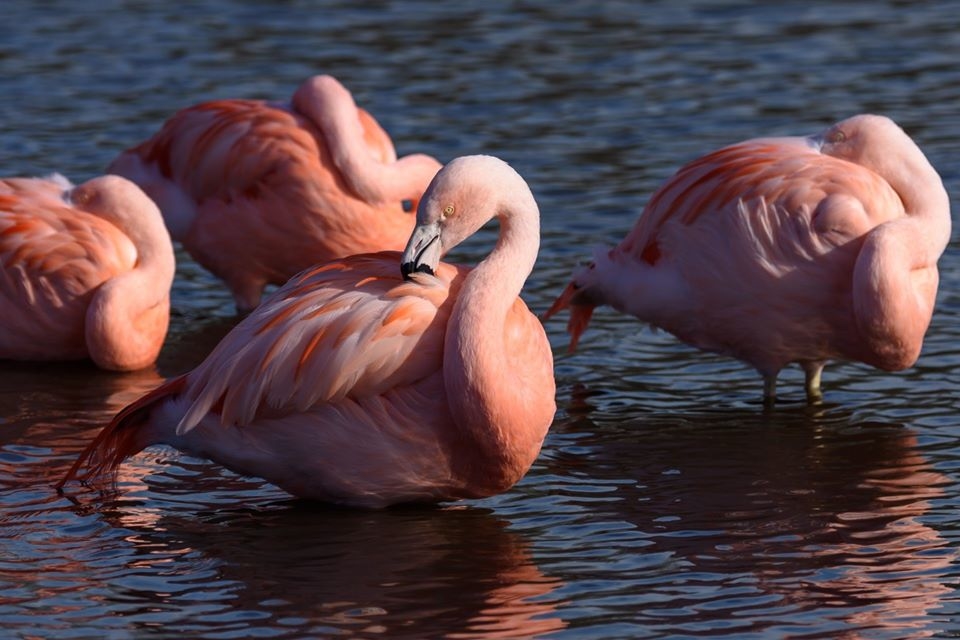 On top of the good care, good feeding and daily checking of their housing and habitats, the good weather and sunshine spurs the birds on to think about nesting. Phoebe captured this video of the greater flamingos at WWT Slimbridge displaying in their nesting area. Will this translate into nest building? We'll wait and see. It might be difficult to manage flamingo breeding this year with the current pressures on the animal care staff, but the birds can still perform the same natural courtship behaviours as normal.
And finally, to WWT Washington; check out the centre's Facebook page where this Sunday (26th April) you will be able to watch a live video at the flamingo enclosure to find out more about the centre's Chilean flamingos and why they are such brilliant birds! A big thanks to all of the animal care team at WWT Washington and all other WWT centres who are keeping their flamingos so happy and healthy. If this has inspired you to love the pink birds that little bit more, don't forget you can get more involved with WWT's flamingos by checking out the flamingo adoption information on the WWT website.