Mandarin Ducks as wedding presents? Eiders nesting in old car tyres? Geese painted in Ancient Egyptian tombs? Humans have always found ways to bring birds into our culture.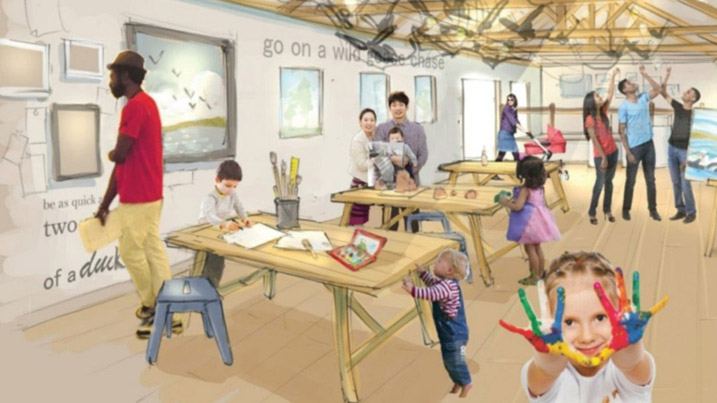 Come and explore the long history of people living alongside birds. From farming and hunting, to myths and legends, find out more about humans relationship with birds.
Discover human relationships with birds in our craft barn, barnyard and Icelandic Eider Farm.
Craft barn
Get creative in our craft barn with daily bird themed crafts to help you develop your own artistic talents.
With volunteers on hand to offer support and guidance on the activities, there is plenty of opportunity to get stuck in to something new.
Explore wildfowl art and legend – including Sir Peter Scott's famous artworks – in our wildfowl art exhibit on the walls in the craft barn.
Look out for our artists in residence who will inspire you through drawing, painting, pottery, sculpting, textiles & photography.
Barnyard feeding fun!
Enjoy the magical experience of getting up-close with our wildlife by hand feeding the ducks. Sir Peter Scott knew that feeding wildfowl was a sure way to give people a life-long love of birdlife.
Discover how humans have carefully bred wildfowl species such as geese and ducks.
Meet our local chicken, bred at Uley in Gloucestershire since 1989 – the Khaki Campbell!
Icelandic Eider Farm
There are some human relationships with wildfowl that are truly amazing. This is one of them.
Explore an eider duck farm and discover how one of the most gorgeous sea ducks has made that warm down jacket and duvet possible (without any harm to the birds) – and what the ducks gain from the relationship with people!
Things to do:
Get creative with wildlife inspired arts and crafts in the craft barn
Enjoy the fantastic wildlife art exhibit
Be inspired by our artists in residence special events
Feed the barnyard chickens, ducks and geese and learn about how humans bred them for farming
Meet the eider sea ducks and discover their fascinating relationship with humans
Project update
In 2018 we had two artists in residence on site at Slimbridge. Melanie Cormack-Hicks, contemporary landscape artist and Beth Jenkins, printmaker, spent a week on site responding to the wetland environment and encouraging visitors to take part in drop in activities and workshops.