In the Gallery
Carolyn Black
Carolyn is a writer, artist and visual arts producer. She has a BA and MA in Fine Art and a post-grad diploma in printmaking. Her current arts practice spans drawing, video and digital imaging. Most recently Carolyn has been making videos and stills using a 360degree camera.
Having lived on the east bank of the Severn for 25 years, and the west bank for 13, her autobiography has the Severn at its centre. She produced a series of large format, panoramic, charcoal drawings, of opposite sides of the River Severn, which culminated in the publication of Severnside - An Artist's View of the Severn. A limited edition of only 100 hardback books, published by artdotearth were produced, all signed and numbered by the artist. Prints are available of most of the images in the book.
E: carolyn@flowprojects.org.uk
M: 07775938500
Beth Jenkins
I am a professional artist working in Gloucestershire and a member of Gloucestershire Printmaking Co-operative. Having worked as a commercial artist for many years, I now concentrate on making fine art prints, mainly but not exclusively in wood and lino. I draw my inspiration from the natural world, looking for a particular effect of light, or a brief moment in time. During my time as Artist in Residence at Slimbridge, I enjoyed studying the personalities of different birds and have tried to capture some of that in my work, particularly with the mute swans. I have exhibited extensively in the UK, and was selected for the inaugural 'Masters of Relief Print' exhibition by the Royal Society of Painter Printmakers. I have also exhibited in New York and France. I have degrees in Fine Art and Creative Practices and teach printmaking locally and nationally.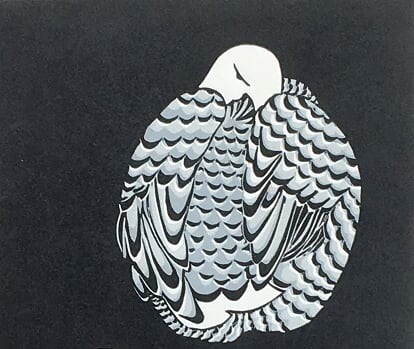 Andrew Seaby
Andrew's father taught him the basics of relief printmaking from wood and lino blocks. His elder brother also encouraged him and helped with the construction of a printing press. Andrew attended art and printmaking classes in Belfast, Coventry, Falmouth, Swansea and Stroud. Wildlife forms the subject matter for many of Andrew's pictures. Through snorkelling and diving, he has tried to observe marine life at close quarters. He has been fascinated by the grace and economy of movement demonstrated by many aquatic animals. Andrew has contributed pictures to more than eighty local and national group exhibitions. These have included the RA Summer Exhibition, RWA Open and the Society of Wood Engravers (SWE) Annual Exhibitions. He has designed the covers for a dozen books and a small number of journals. Andrew is very grateful to many family members, friends, teachers and his wife, Pam, for their practical help and encouragement over many years.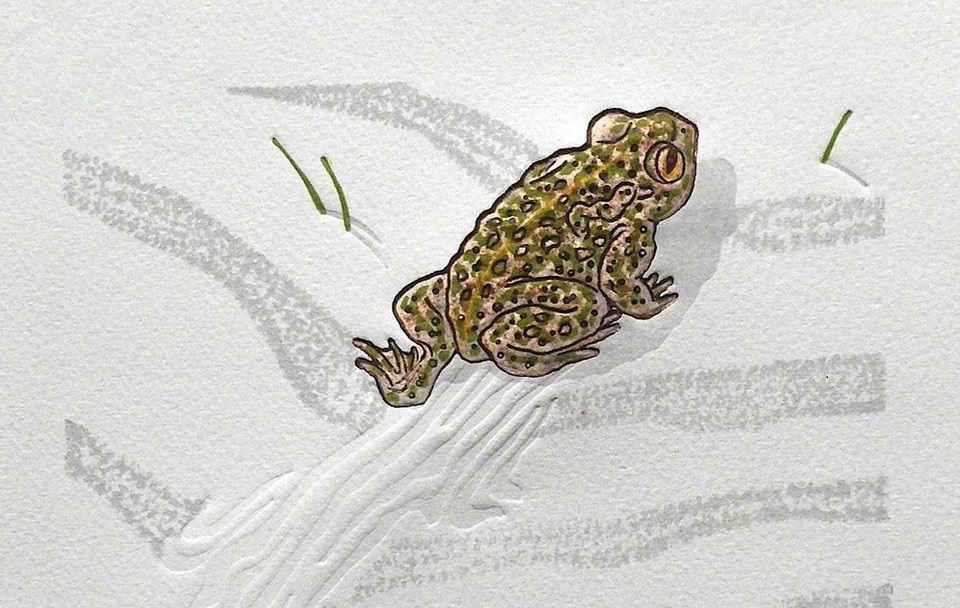 In the Plinths

Lucy Large
"My sculptures aim to capture a frozen moment – a characteristic gesture – sometimes in a playful or whimsical way, at other times just observing. Each piece is carefully sewn together using layers of fine metal mesh – allowing for a physically robust form that is also visually fragile and light. This contrast between strength and fragility offers a reminder of how precious and vulnerable our natural world is and how fortunate we all are to share space with these creatures." Lucy Large studied sculpture at Camberwell College in London. She exhibits widely throughout the country and is always happy to respond to commissions. She lives in West Somerset, surrounded by abundant wildlife.