Learn about the science going on at Steart Marshes
Here is the view from your vantage point, looking over the small reedbed in front of you towards the newly created saltmarsh just over the floodbanks. This is a spring-time shot and you can just make out the Polden Hide on the near-horizon at left.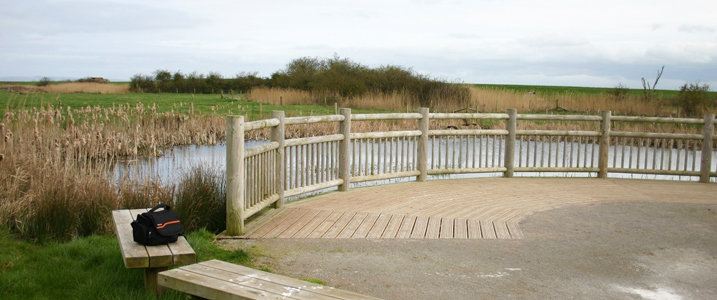 KEY FACT 1: You are looking across to one of the largest created saltmarshes in the UK.
Per unit area, saltmarsh has a greater capacity to remove carbon from the atmosphere than the canopy of an Amazonian rainforest! That's an important factor in our efforts to mitigate climate change.
Here's wildlife TV presenter and author Miranda Krestovnikoff to tell you more about the creation of this wonderful habitat here:
WWT Steart Marshes with Miranda Krestovnikoff from WWT on Vimeo.
---
KEY FACT 2: The Severn estuary is predicted to rise by 1 metre in the next 100 years.
Created saltmarsh that can absorb the enormous energy of incoming tidal surges is therefore a crucial component of the long-term flood defence strategy in this area.
Here's an aerial view of the flooded saltmarsh at high tide, taken from the north of the Steart Peninsula where you can clearly see the breach in the old sea wall. The breach was performed in September 2014 and you can walk to it from here in around 45 minutes: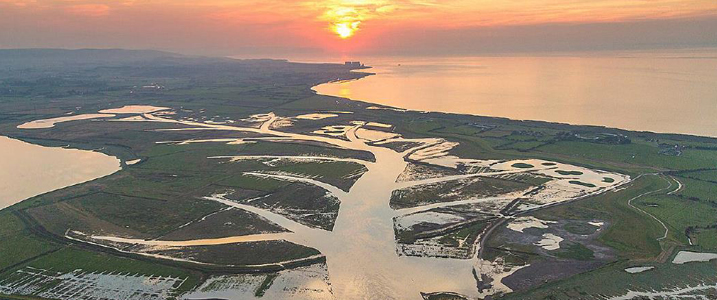 Science behind saltmarsh development and colonisation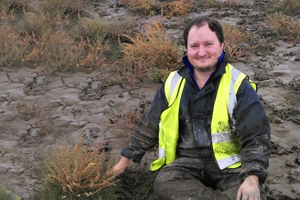 Research is underway here to improve our understanding of the factors which encourage or impede the development of saltmarsh plant communities, following coastal realignment projects like that which has been undertaken here at Steart. Ecologist Peter Lawrence (pictured below) from Manchester Metropolitan University is conducting regular vegetation surveys and soil sampling across the different areas of the saltmarsh to compare how well specialist saltmarsh-loving plants are colonising this new landscape.
---
KEY FACT 3: less than 0.7% of all the plant species in the UK can live on a saltmarsh!
Since these plants are such specialists, they are extremely valuable to our environment, providing almost all the "natural capital" of a saltmarsh. This means things like nesting for rare birds, food for animals, or reduction of wave energy (to control flooding).
---
KEY FACT 4: Saltmarsh is a rare habitat in the UK, and we are losing it at a worrying rate.
We have approximately 45,000 hectares of saltmarsh in the UK, compared with 1,300,000 hectares of peatland, and 350,000 hectares of ancient woodland. So Steart Marshes is now of huge importance as one of the largest saltmarsh creation schemes ever attempted in the UK.
A dynamic environment
Here's a time-lapse video of the receding and returning tides at Steart Marshes. This is truly a dynamic environment, since the Severn Estuary has the second highest tidal range on the planet at around 11.5m. Any idea where the largest range occurs? Hint: it's in Canada.
---
KEY FACT 5: Saltmarsh has a complex set of "ecological niches" based on position in the tidal range and the occurrence of troughs and peaks.
This enables a greater diversity of salt-loving plants, such as Spartina which prefers lower elevations, and Atroplex which prefers higher elevations.