A pintail, a shelduck and a little grebe featured in the winning images of the WWT Nikon Photography Competition 2009, announced at an awards ceremony held at the WWT London Wetland Centre.
The competition asked photographers to 'show us what WWT means to you' and the UK's photographers responded with over 1,700 photos taken at WWT's nine wetland visitor centres.
The winner of the WWT Nikon photograph of 2009 is Wayne Davies from Swansea for his photo of two shelduck called 'taking a ducking', taken at WWT Llanelli.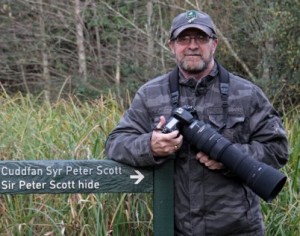 Mr Davies said: "I have always had a passion for nature and bird photography. Since I have acquired a digital camera I can take advantage of the opportunities that the Wetlands Centre and its facilities can offer. I'll think nothing of spending 4-5 hours sitting in a hide trying to get the shot I'm after, or walking around the grounds following a clouded yellow butterfly for miles in the hope that it will alight on a flower."
Alexander Baker, from Horsham picked up top prize in the junior category with his photo entitled 'I'm a little greeby', which was shot at WWT Arundel. And, the winner of the WWT Nikon digiscoping photograph of 2009 was Paul Jarvis from Rufford for his photo of a pintail taken at WWT Martin Mere called 'perfection in the evening'.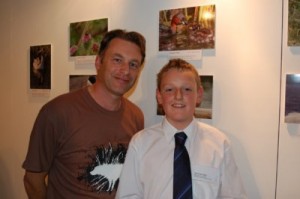 Alexander Baker junior winner, with judge Chris Packham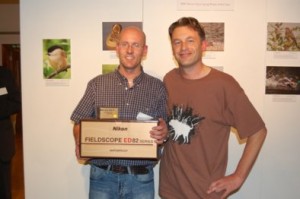 Paul Jarvis, digiscoping winner with Chris Packham
The judging panel comprised TV presenter Chris Packham, Tim Hunnable (Nikon UK Ltd), Peter Day (WWT council), Marcus Hawkins (Digital Camera magazine) and Sheena Harvey (Editor, Bird Watching Magazine)