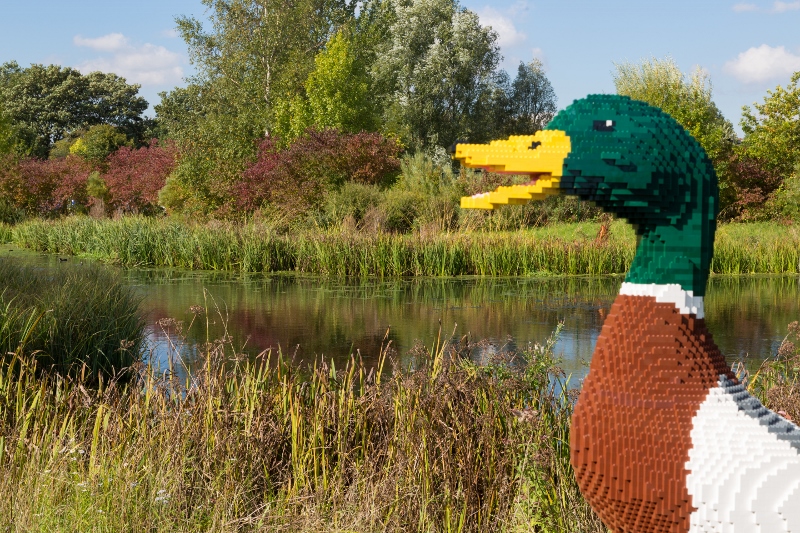 The Wildfowl and Wetlands Trust's (WWT) specially created giant LEGO brick animal trail, the only one of its kind in the UK, will be landing back at WWT Llanelli Wetland Centre on Saturday 9th September and is once again anticipated to be extremely popular due to the addition of two new characters. This is the second time these amazing characters will be seen in Wales, standing among the real life animals that inspired them, and they'll be joined by the glorious figure of Benedict the Bewick's Swan magnificently stretching his brick wings and a beautifully detailed Mac the Mallard made up of 11,200 bricks!
Through this trail, the WWT is using the world's most popular toy to encourage kids (and big kids) to build a better future for nature.
The giant animals (some up to twelve times life size!) include Kate the Kingfisher, a riot of orange and blue bricks; Flavia the Flamingo, standing tall on her long yellow brick legs; and Natalie the Nene, representing the rarest goose on Earth.
These magnificent LEGO brick models were created by Bright Bricks, the UK's only certified LEGO professionals, and Tom Poulsom, the famous LEGO brick 'birdman'.  In total, more than 170,000 LEGO bricks were used over 1,209 hours to make all 11 characters.
Nigel Williams, WWT Llanelli's Manager, said:
"We're thrilled to welcome the new species that will be arriving at Llanelli Wetland Centre this autumn.  We know our visitors, both returning and new, are going to absolutely love them. They're a really fun way to highlight some of the diverse animals WWT helps to protect, such as the iconic Nene and our red-crowned Cranes."
The trail will run from Saturday 9th September to Sunday 5th November, with special hour-long LEGO brick workshops held twice daily throughout the October half term (Saturday 28th October to Sunday 5th November) where guests can make their own LEGO brick frog to take home! Visitors can also buy limited edition mini LEGO brick models, only available at WWT. All proceeds will support WWT's essential conservation work in the UK and around the world.
There is no extra cost to meet the giant LEGO brick animals at Llanelli Wetland Centre; the trail is included in the admission price.  Places for the workshops should be pre-booked online at an additional cost of £8 per person.  To find out more about the Giant LEGO brick animals, and other brick activities, please visit wwt.org.uk/legobrickanimals or follow #LEGOBrickAnimals. To book a place on the LEGO brick workshops please visit http://www.wwt.org.uk/llanelli/legosessions