Justin de Villeneuve photographic exhibition at London Wetland Centre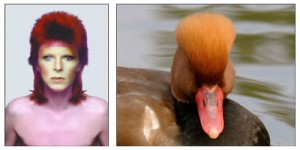 An elegant new exhibition – PORTRAITS fashion to feathers – at WWT London Wetland Centre pairs images of models and rock stars with exotic birds and highlights some striking similarities.
Iconic photographer Justin de Villeneuve first made his name photographing models and rock stars in the 60s and 70s. He is also recognised as having discovered and managed the world's first supermodel – Twiggy – as well as capturing numerous other famous faces including David Bowie, Raquel Welch and Pattie Boyd to name but a few.
For nearly a decade now Justin has been photographing birds at WWT London Wetland Centre and more recently at Sandwich Bay Bird Observatory Trust as well as in other parts of Kent. Many of his stunning bird images were exhibited in 2006 at the Natural History Museum in Tring, Hertfordshire to critical acclaim and in 2010 the Fashion and Textile Museum in London exhibited some his iconic 60s and 70s work in a show entitled Fashion and Fame.
This new exhibition at London Wetland Centre in Barnes focuses on Justin's interest in the Portrait as a means of expression – not just within the fashion fraternity, but within the ornithological world.
Entry to the exhibition is free with paid admission to WWT London Wetland Centre.