It's a gorgeous day here at Arundel as we approach our busy Easter period and a sudden explosion of wild ducklings has taken place! Some clutches have up to nineteen young and their poor mothers spend all their time rounding them up as they slip through fences and get separated from their brothers and sisters. Unsurprisingly the Peregrine has been very interested in these goings on! Paul, our Grounds Manager, saw the raptor flying off with a duckling in it's clutches earlier this week and a visitor witnessed a peregrine taking one right off the water. The little balls of fluff are also vulnerable to underwater attack as the large pike in some of our lakes will also prey on them.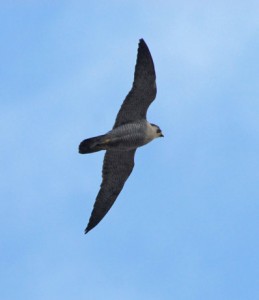 Peregrine in Flight by Paul Stevens
When I first joined the Trust, the thought of ducklings being picked off by predators seemed quite awful. However, as my understanding of wild birds and ecosystems has grown sometimes I can't help but be fascinated by the cruelness of nature. I felt the same way about cuckoos invading another bird's nest until I saw a newly hatched chick rolling the reed warbler eggs out of it's nest in Wetlands Discovery. You can't fail to be impressed by this relationship as you watch the tiny warbler working tirelessly to feed it's huge chick.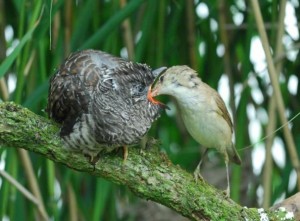 Reed warbler feeding cuckoo chick by Paul Stevens
Despite being the smallest of the 9 WWT centres in terms of area, we are lucky to be able to manage several different types of habitat within this area and give visitors a close up view of the species within it. The reed bed, for example, offers great sightings of cetti's warblers and reed buntings and as you pass through the woodland carr area you have a good chance of seeing a treecreeper on the branches or a water rail flitting about at the base of the phragmites. Water voles have also spread around this area and if you're really lucky you may encounter one sat at the side of the boardwalk munching away on the sedge, completely oblivious to your presence.
But what about the other waterlife in the reed bed? Dragonflies and damsels, amphibians and reptiles? You may have noticed that we discourage feeding in the reed bed as the mallards which are lured into the area then feast on the spawn and larvae in the water. This can really damage the populations of these creatures so we're trying to help people understand the reasons behind the no-feeding zone. It's easy to miss them if you're not looking but do keep your eyes peeled as some of them are truely stunning.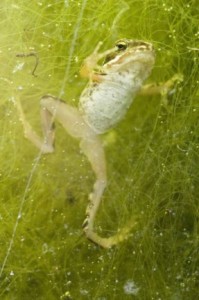 Froglet by Richard Taylor Jones
As April moves on, we are getting more excited about the prospect of sand martins arriving on site. Four were spotted in front of the sand martin hide along with several swallows and a house martin. Paul has started playing recorded calls of sand martins in the hope of fooling them into thinking we've already got some residents and encouraging them to explore the chambers. The hide is one year old now and a little more weathered than it was last year. The London Wetland Centre attracted several pairs in their first year and the population gradually grew to the fill the one hundred chambers in the bank. Drawn by the chance of an easy lunch, a hobby and sparrowhawk quickly caught on, waiting for birds to emerge from the chambers and swooping in for the kill. Numbers dropped that year but have risen again steadily and it's amazing to watch from the nearby observatory.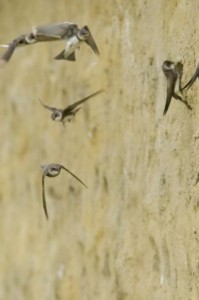 Sand martins by Richard Taylor Jones
Our recently gravelled islands in front of the sand martin hide will hopefully attract breeding terns which will then act as a security system, raising a noisy alarm when a bird of prey is nearby, alerting the sand martins to the potential danger.
Isn't nature amazing!
Enjoy the sun and see you soon.
Liv