Celebrities lead support for first ever lone female expedition to save swans
Dame Judi Dench, Sir Ranulph Fiennes and Sir David Attenborough head a list of hundreds of businesses, charities and individual supporters throughout Europe and Russia who are getting behind a unique expedition to save the Bewick's swan.
Named after Northumberland born engraver and wildlife author Thomas Bewick, who produced many fine drawings of this beautiful bird during his lifetime, the Bewick's swan is Europe's smallest swan and is becoming increasingly threatened by habitat loss and human activities; causing the population to almost halve in the last twenty years with less than 18,000 now surviving.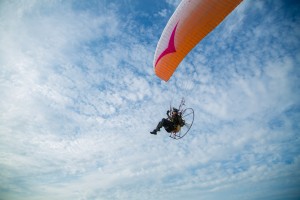 Flight of the Swans will be the first ever attempt to follow the migration of these swans from the air. Setting off this September, Sacha Dench of the Wildfowl & Wetlands Trust (WWT) will fly a paramotor from the Bewick's swans' breeding grounds in arctic Russia 7,500km across 11 countries before finishing at their final destination in the UK.
The paramotor is simply a wing of fabric, from which Sacha will dangle with a propeller strapped to her back. Flying at the same speed and height as the swans, she will experience the wonders and dangers the swans face including heavy storms, sea crossings and extreme cold. She will share their view with the world in real time using the latest digital camera technology and satellite communication.
Along the way, Sacha and her support team will meet with the communities that live along the swans' flight path, including reindeer herders, farmers and hunters.
Anyone can find out more about the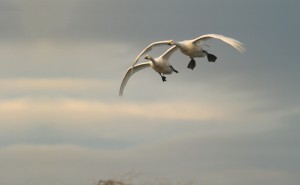 expedition and sign up to support the Bewick's swan at www.flightoftheswans.org You can also track Flight of the Swans and Sacha's progress through updates at Washington Wetland Centre, as we follow her incredible journey and support the fantastic cause.
Sacha Dench said, "I'm humbled by the support that Flight of the Swans has already gained. People all across Europe and Russia are using this expedition as a lever to improve things for the swans, which is all I could have hoped for.
"Each winter, I'm fortunate enough that a small flock of acouple of hundred Bewick's swans returns to my workplace – WWT's Slimbridge Wetland Centre in Gloucestershire, UK. To get there they need safe passage all the way from the northernmost wilds of Russia, and for the last two decades fewer and fewer have made it. It's crucial that we act now before it's too late."
Sacha Dench contacted Dame Judi Dench, who plays M in the James Bond films, after a family member found out that they were related. Dame Judi said, "Flight of the Swans is absolutely fascinating, full of adventure and passion. I'm proud to support it. We need to work together if we're to help these beautiful birds, and I am looking forward to following the expedition"
The other Patrons of Flight of the Swans are: Kate Humble, Pen Hadow and Ann Daniels.
Companies and organisations lending support to Flight of the Swans include Mitsubishi, Rix and Kay Solicitors, Páramo Directional Clothing, Inmarsat, Team Bootcamp, Lazarus Training, Fresh Breeze Paramotors and Over Farm Microlights.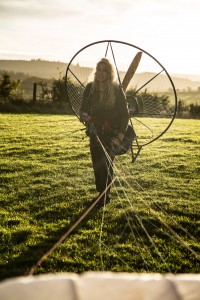 Flight of the Swans is being supported by conservation and education organisations in each country that the swans pass through, each of them organising events to coincide with Sacha's arrival. These meetings and workshops will help progress swan conservation throughout the swans' range.
Sacha continued, "WWT is incredibly grateful to the many people and organisations that have already generously supported Flight of the Swans. It's wonderful to work with businesses, charities and individuals that have a genuine interest in the conservation and environmental issues we're trying to address. We thank them for their terrific contribution."
Supporters of Flight of the Swans include Sir David Attenborough who said, "This expedition is marvelously imaginative and adventurous, and a fitting project in WWT's 70th anniversary. Peter Scott did similar in his day and inspired the world. That swans should fly from Russia to come here is surely a kind of parable – we can live in harmony with nature and it's up to us to do so."
WWT Washington Wetland Centre is pleased to be following Sacha's progress, hearing about her amazing adventure and importantly learning what is happening to the Bewick's swan and how we can make a difference.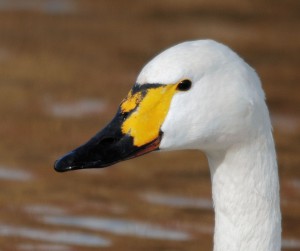 Washington Wetland Centre manager Gill Pipes said, "It's projects such as Flight of the Swans that make WWT such an exciting organisation to work for. The passion and commitment Sacha is demonstrating in highlighting the dangers to these stunning birds is echoed in the staff here at Washington, although it may show itself in less dramatic ways!
"Conservation isn't easy – thinking outside the box and going the extra mile is vital in connecting people with the wildlife around them. Here at Washington, our visitors can get up close to remarkable birds, many of which are in danger themselves – every visit to our centre supports conservation in action, such as Sacha's amazing work."