Over 50 new Bewick's swans flew into Slimbridge last night transforming the Rushy Lake into a vibrant theatre of courtship routines, frenzied feeding and territorial squabbles! Conditions were perfect for migration with clear skies, good visibility and north-easterly winds to help them on their way. Dropping temperatures across Europe in recent days will have prompted many to push on west in search of warmer climes and food. Although day-length dictates the broad migratory period for the Bewick's, weather is the main factor influencing the precise timing of migration.
Swan volunteer Steve Heaven counted 109 swans at dawn this morning and we suspect there are more – it's quite staggering to think that there were only 23 here on Monday and now numbers have quadrupled in just a few days! We have been very busy identifying the swans by their unique bill patterns. With this latest 'swan-fall', the tally of birds recorded at Slimbridge so far this winter has soared to 119 which is higher than the average of 53 birds recorded by mid-November over the last five years. Temperatures look set to remain cool over the coming days so we can almost certainly expect the arrival of more.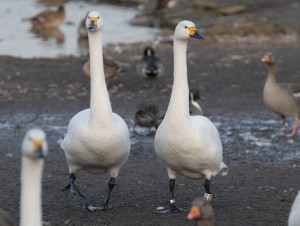 It has been fantastic to see the return of many familiar faces, some of whom will have undoubtedly brought others to the reserve for the very first time. Our divorcee Sarindi is back with second husband Sarind! In 2009, Sarindi and ex-partner Saruni arrived with new partners in what was only the second divorce seen on the reserve in more than 40 years of research involving the study of 4,000 swan pairs. Bewick's swans tend to mate for life although will repair if their partner dies. Grounds for Saruni and Sarindi's divorce remain unclear although such an unusual event may be connected to a lack of breeding success.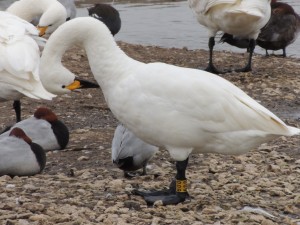 Adopted swan Coddle (who was named by Lady Phillipa Scott several years ago) flew in with mate Doddled for her ninth winter on the reserve.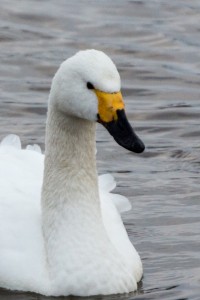 And some of our oldest swans have made it back. At the grand old age of 22, Whirls is settling in for another winter as is Riddler who has returned with mate Riddles. We are still waiting for Caper to come back who at 24 years old, was the oldest known swan in Britain last winter.
Many of the swans are feeding in the fields around the reserve at the moment but I have a feeling that the 4pm swan feed will be quite spectacular this afternoon!
---