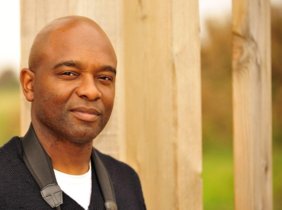 David Lindo, up-and-coming birder with a twist! Using urban centres to hone his skills and let his interest in birds flourish, will be talking and holding book signings of his first publication at the WWT Welney autumn fair on Sunday 25 September.
The autumn fair is in its second year and will play host to a range of art and craft stalls, which should give plenty of choice and gift ideas to those spreading the cost of Christmas this year and starting the present hunt early. There will also be Opticrom and Swarovski optics on display to test and purchase on the first floor of the visitor centre, allowing views across the Fenland landscape and newly created wetlands, with the benefit of onsite advice from our experts infoucs.
David Lindo will be hosting two 20-minute presentations at 11am and 2pm during the fair which will then both be followed by book signing sessions. The presentations will be held in the main observatory, over-looking the internationally important wetlands of the Ouse washes as the first of the wintering wildfowl return, including the whooper swans that the reserve is famous for.
People interested in being in the audience for the presentations should call 01353 860711 or email emma.brand@wwt.org.uk. There is no additional charge for this event but places are limited so bookings will be taken on a first come first serve basis.
David's new book, The Urban Birder, published this August will be available to buy in centre during the autumn fair, or visitors can bring their own copies for him to sign. The book highlights the fact that urban birding can be done anywhere and anytime, from a whole day to a spare 30 minutes. But woven within this encouragement for those people exploring the concrete jungles humans have created are stories of the perils that are encountered when exploring these unusual oases; all drawn from his own experiences. This mix of birding highlights and anecdotal information makes the book an enjoyable read to all bird lovers across the country.
"This book is a wonderful way to spend a long autumn or winter evening; it is interesting to the well-seasoned birder, could kindle the passion in beginner birders, and is downright essential to the city birder" Stephen Rutt, BirdGuides.
The autumn fair at WWT Welney is run by FenCraft Fairs; to stand at this event please contact John Abbott on 01354 652653 or Ian Macey on 01733 561600. More information on the fair, the optics demonstration and the book signing can be found at www.wwt.org.uk/welney or by contacting the centre on 01353 860711.