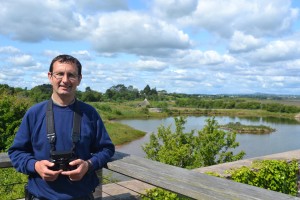 The following sightings were recorded today by Toni Castello, warden, at low tide, and a beautiful sunny day start.
Estuary
Little egret 2, Black-headed gull +50, Lesser black-backed gull 2, Black-tailed godwit 13. Surprisingly, we're still having relatively good numbers of Black-tailed godwit, which is a bit unusual for these dates. Many of them are showing the full orange breeding plumage, and looking spectacular.
Main lake – visible from Sensory garden and Visitor centre
Mallard 25, Coot 3, Tufted duck 8, Shelduck 4, Grey heron 1, Little grebe 1, Greylag 3, Mute swan 2, Black-headed gull +100.
Wadermarsh – visible from Wadermarsh lookout and Brent Hide
Black-headed gull 18, Shelduck 3. Yesterday in the afternoon we had around 70 Black-tailed godwits and 5 Knot, one of them in full breeding plumage, and one of the most beautiful sightings we've had this year so far.
Freshwater Lagoon – visible from Brent Hide and Crannog
Gadwall 1, Mute swan 2, Mallard 16, Tufted duck 16, Black-headed gull +400, Lesser black-backed gull 1. A female Goldeneye is being quite constant in the last few days, although this species is usually a winter visitor, which normally leaves Northern Ireland in April. A Sedge warbler was singing loudly this morning, camouflaged among the reeds.
Saline Lagoon – visible from the Saline Lagoon lookout and Limekiln observatory
Black-headed gull 35. There were six Common tern in this lagoon this morning, but we've had up to 16 in the last days, and 8 of them seem to be paired, in light of the mating behaviours they are displaying. They keep showing interest on the raft we launched last week. We're closely following the behaviour of these birds, as having them breeding on site would be very helpful for the conservation of the species at the local level.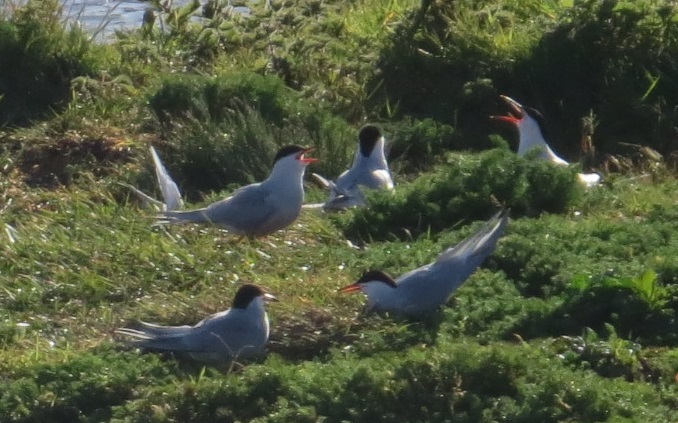 Limestone Lake – Visible from the Limestone Pavillion and the Woodland lookout
The kingfisher was spotted again yesterday in the morning.
Peninsula Marsh – Visible from the Peninsula Marsh lookout
Seventy Oystercatcher were resting this morning in the marsh. The Sedge warbler and the Reed bunting have been spotted several times during the last few days.
Peninsula Field – Visible from the Peninsula Marsh lookout
Linnet 3. Whitethroat 1 male, singing, and a really unusual sighting for the site.
Woodland
Wren 2, Goldfinch 2, Chaffinch 2, Great tit 1, Robin 1, Dunnock 1. Our breeding bird survey yesterday revealed the first Long-tailed tit brood for this year: