The following sightings were recorded today  at low tide. We are getting more and more evidences of newly hatched chicks all around the site, both in the water bodies and in the woodland, which are providing everybody with really beautiful sightings. And more to come!
Estuary
Black-headed Gull 30, Shelduck 4, Oystercatcher 1, Lesser black-backed gull 1. Eight Brent geese were feeding in the estuary, and they are now quite a late sighting, as the most of the Brent Arctic Canada population is nowadays in those far breeding grounds.
Main lake – visible from Sensory garden and Visitor centre
Tufted duck 6, Coot 4, Greylag 3 adults and 2 goslings, Mallard 30, Little grebe 1, Black-headed gull 80, Grey heron 1.
Wadermarsh – visible from Wadermarsh lookout and Brent Hide
Shelduck 6, Black-headed gull 2.
Freshwater Lagoon – visible from Brent Hide and Crannog
Mute swan 2, Tufted duck 18, Mallard 15, Black-headed gull +350, Goldeneye 1, Gadwall 1, Sedge warbler 1. The colony of Black-headed gull is seen more and more chicks hatching, the most of them almost invisible among the vegetation. The last days have brought some other really nice surprises in this area: A family of Shelduck with 7 astonishing chicks, and a family of Coot with 3 fluffy beauties: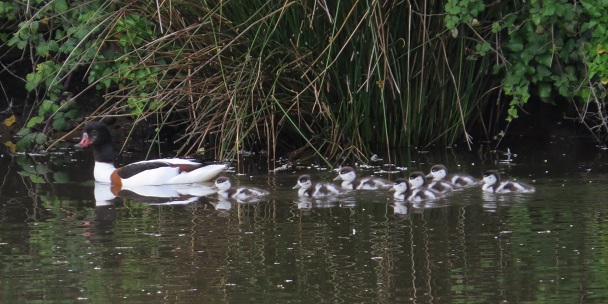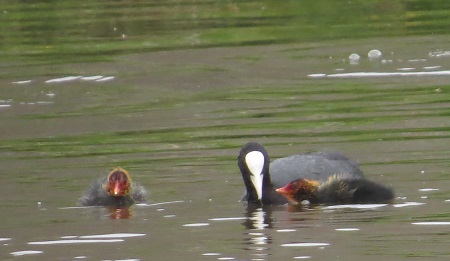 Saline Lagoon – visible from the Saline Lagoon lookout and Limekiln observatory
Black-headed gull 16, Red-breasted merganser 1.
Peninsula Marsh – Visible from the Peninsula Marsh lookout
Shelduck 2, Black-headed gull 2.
Limestone Lake – Visible from the Limestone Pavillion and the Woodland lookout
Little grebe 2. Three Kingfisher were sighted together, which makes us think that this could be a family.
Woodland
Coal tit 1, Wren 3, Goldfinch 1, Chaffinch 1, Robin 1, Blackcap 1. A Blue tit is using one of our nest boxes, and it seemed to be feeding chicks inside this morning.