An Arctic community of passionate individuals who are engaging scientists, hunters and young people in initiatives to protect endangered birds from illegal hunting.
Every spring, the snow melts and the tundra of the Russian Arctic comes alive with the arrival of millions of waterbirds who come to breed, moult and feed.
This vast wetland is critical to the life cycle of birds from five of the eight great migratory flyways. Bewick's swans from the Northwest European flyway migrate more than 2,500 miles from their winter homes in the UK, the Netherlands, Denmark and Germany to find the safest places to nest.
The challenge
Bewick's swans are endangered in Europe 5 and protected from hunting by law in every country they fly through.
Despite this, a third of live birds caught and x-rayed by researchers are found to be carrying shotgun pellets 1. In addition to these 'flying wounded', unknown numbers are shot dead.
The entire population of Bewick's swans from Northwest Europe gather to breed in just two regions of Russia: the Nenets Autonomous Okrug (NAO) and Arkhangelsk Oblast (AO). Here, more than a quarter of hunters surveyed admitted to shooting Bewick's swans, with 15% saying that they shot them accidentally 2.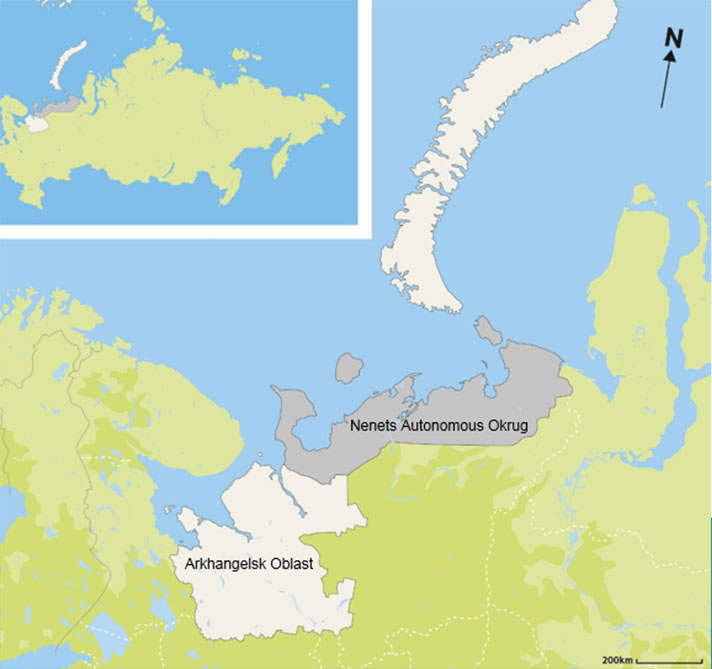 Our recent research concluded that Bewick's swans are mistaken for mute or whooper swans, which have weaker legal protection in Russia. This is likely to increase the risk that they are mistakenly shot 2.
Furthermore, 18% (almost one in five) of hunters were either unsure or believed that it was legal to hunt Bewick's swans. Our surveys and conversations also found that the behaviour and intentions of hunters is strongly influenced by social pressure and cultural norms. A lack of law enforcement, food, sport, and perceptions that numbers of swans overall are increasing, and that Bewick's swans are aggressive and drive away other huntable waterbird species, are all motivations for illegal hunting. Our conclusion is that the drivers for hunting are complex, often interlinked and require imaginative human solutions.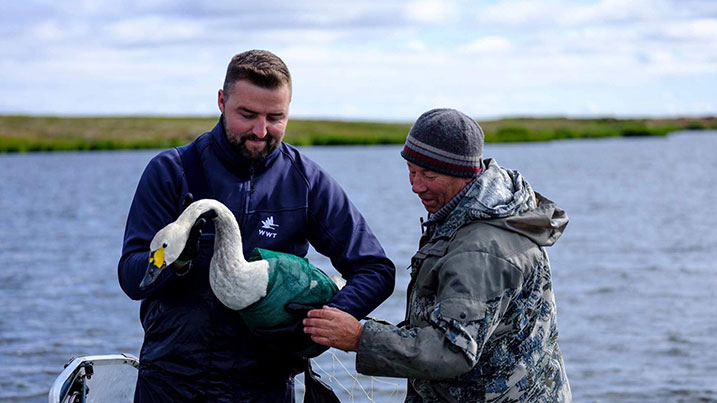 What we are doing
Arctic Russia is not just home to the swans, but also to a diverse community of people.
Concerns for the fate of the Bewick's swans among local residents has prompted them to start a grassroots initiative to unite scientists, hunters and the public in championing swans and their wetland homes while reducing the hunting of the swans. This network of Swan Champions includes prominent figures representing indigenous groups, conservation organisations, academic and education institutions, tourism agencies and members of the regional government.
We are supporting the Swan Champions' plan for community action but it is entirely led by the champions themselves.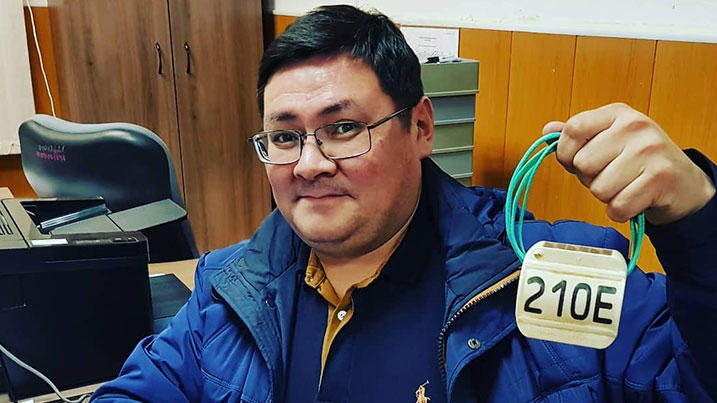 The Swan Champions aim to increase knowledge of Bewick's swans, their wetland habitats and protected status among hunters, hunting tourists, local communities and young people 3. Activities will focus on improving the ability of hunters to recognise protected waterbirds and encouraging them to follow the laws that protect them. In this remote region, diverse methods for communication will be needed to reach as many people as possible. Among the activities that are planned are:
Touring a swan exhibition and film around the remote Arctic communities, to celebrate the swans, cement their role in local culture and art, and highlight their plight.
Resources for hunters with information about protected and huntable waterbirds in the region
Engaging school children through an online interactive outreach programme that will provide learning resources and guidance for teachers to teach lessons about the challenges that migratory waterbirds face, their ecology and the importance of the tundra ecosystem as a lifeline for their conservation.
A mobile phone app to help hunters access information about birds and the law, and engage in conservation while in the field.
Over time, we plan to share and expand the Swan Champions' successes in the Russian Arctic to other regions along the swans' flyway where they are vulnerable.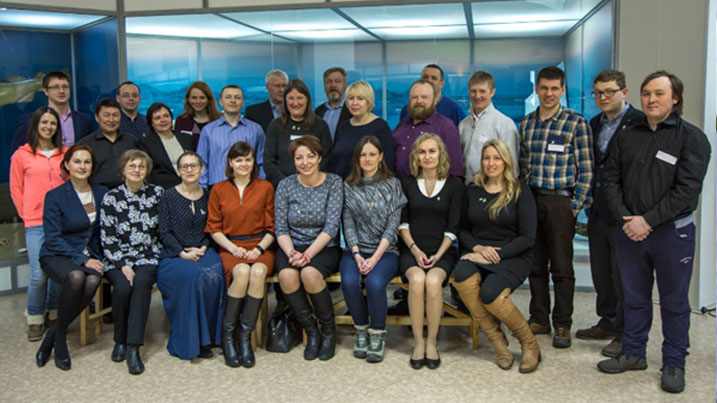 What we've achieved so far
2011 - Showing the sheer scale of shotgun pellets found in Bewick's and whooper swans in the UK in a published paper
2016 - Human drivers of shooting identified during social surveys of hunters in the NAO and AO.
2016 - Flight of the swans, which involved conservationist Sacha Dench flying the migration route of the Bewick's swans by paramotor, helped identify problems facing swans and galvanised support for their conservation along the flyway.
2018 - Assisting in the formation and activity plan of the Swan Champions group
2019 - Launching the 'Memo for Hunters' 4 which includes a visual guide of protected and huntable waterbirds in the region, information about penalties for violations of the law, a map outlining no hunting zones and instructions on how to report ring sightings. Both website and smartphone compatible versions of the Memo have been created and thousands of printed leaflets have been distributed to hunters and village councils across the NAO and hunting tourism outlets.
2019 - publishing a paper on accidental hunting that revealed just 14% of 232 hunters surveyed in the AO and NAO were able to identify Bewick's correctly and that 18% believed that it was legal to hunt the Bewick's swan or were unsure of its legal status.
2019 - Swan Champion network expanded in Arkhangelsk Oblast (key staging area for the Bewick's swans).
2019 – Launch of a Travelling Swan Exhibition in Nar'Yan-Mar
Julia Newth
"Overexploitation from illegal hunting is one of the main drivers of bird extinctions globally and is the second most significant threat (after habitat loss) to migratory birds. The healthy future of the Bewick's swan and other migratory waterbirds depends on positive, collective action across all sections of society, and for success, people should be seen not only as the problem but also the solution."