Come and view them at WWT Martin Mere's award winning duckling nursery
[yframe url='http://www.youtube.com/watch?v=5JIsj7zG0CY&feature=youtu.be']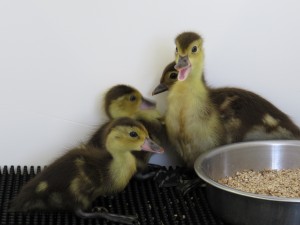 Three critically endangered Baer's pochard ducklings have hatched at WWT Martin Mere Wetland Centre.
In 2012, the Baer's pochard was upgraded from endangered to critically endangered in the wild after monitoring throughout the winter suggested a decline in their numbers due to loss of habitat.
Every year at WWT Martin Mere, the centre hand rears rare and endangered ducklings ensuring they have a high survival rate, maintaining good numbers of certain species in a safe environment. Visitors to the centre can wander through the award winning duckling nursery experience, at the weekend, learning all about the egg to duckling process and seeing the ducklings as they grow.  The Baer's pochard ducklings will be in the duckling nursery over the next few weeks for visitors to see these very rare ducklings and to hear all about why this and other waterfowl species are threatened in the wild and how the admission and membership fees help to support WWTs international conservation projects.
The Baer's pochard is a diving duck found in eastern Asia. It spends the summer in southeast Russia and northeast China, migrating in winter to southern China, Vietnam, Japan and India.
The ducklings are now three weeks old and the birds that bred at WWT Martin Mere are only one year old and came from WWT Slimbridge and bred in specially managed breeding pens.
As the summer holidays begin at WWT Martin Mere, families can discover wetlands by enjoying a huge selection of activities:
Pond dipping and bug hunts
Make a mini-rafts and a mini-nests using tweezers
Award winning canoe and boat tour experiences
Den building
Hand feed the birds from across the globe
Watch our otter family play and feed
Splash, climb, swing and balance on the new Rushes adventure play are
WWT Martin Mere is open every day from 9.30am to 5.30pm and parking is free of charge. Situated off the A59, it is signposted from the M61, M58 and M6.  The Centre is also accessible via the Southport to Manchester and the Liverpool to Preston line by train from Burscough Rail Stations.  Visit the web site http://www.wwt.org.uk/martinmere/ to find out what's on all year round at Martin Mere and the other eight centres.