Introduction to seagrass
What is seagrass?
Seagrasses are flowing plants that have adapted over millions of years to life in the sea. They're the only flowering plant able to live and pollinate while fully submerged in saltwater. They have bright green, strap-like leaves and can form vast meadows when unimpeded. There are about 50 different species worldwide, but in the UK we have four types: two species of tasselweeds and two zostera species, both commonly known as eelgrass.
Where can you find seagrass?
Seagrasses thrive in sheltered, shallow bays and estuaries, where they're protected from the extremes of storms. Because they need sunlight to photosynthesise, they're found in shallow water up to around four metres deep. One of the best places to find seagrasses is at WWT Castle Espie at Strangford Lough, where during winter on a low tide you can find a large proportion of the world's entire population of light-bellied brent geese feasting on eelgrass.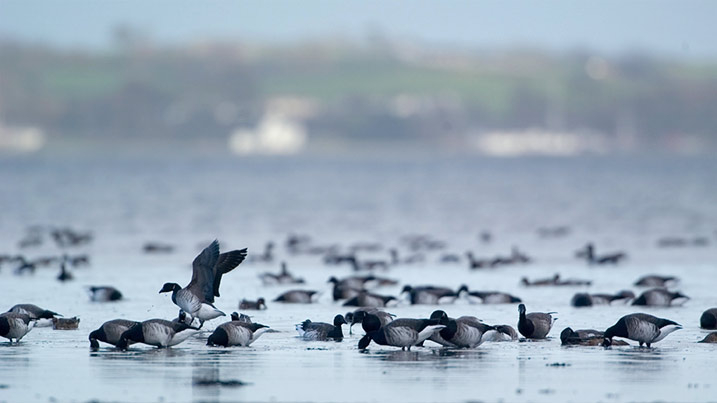 What lives in a seagrass meadow?
Seagrass meadows are amazing for biodiversity. Their long, narrow leaves provide shelter for young fish like cod, plaice and herring, as well as pipefish, cuttlefish and dogfish. In the UK, young seahorses wrap their prehensile tails around seagrasses to avoid drifting away. The swaying leaves of these underwater sea meadows also provide a home to anemones and jellyfish, while molluscs and other invertebrates bury themselves in the soft nutrient-rich sediment trapped around their roots. At low tide in winter, huge flocks of migrating brent geese and whooper swans arrive to forage noisily on the exposed eelgrasses.