At WWT we really couldn't operate without our volunteers. Over 900 passionate and dedicated people give hours of their time to support WWT's vital wetland conservation work.
As we come to the end of volunteer's week, a nationwide celebration of volunteering, we'd like to say a huge thank you to all our volunteers who make our work possible. From visitors who benefit from their knowledge and skill, to teams who literally could not function without them, here's a snapshot of what you shared with us about our volunteers…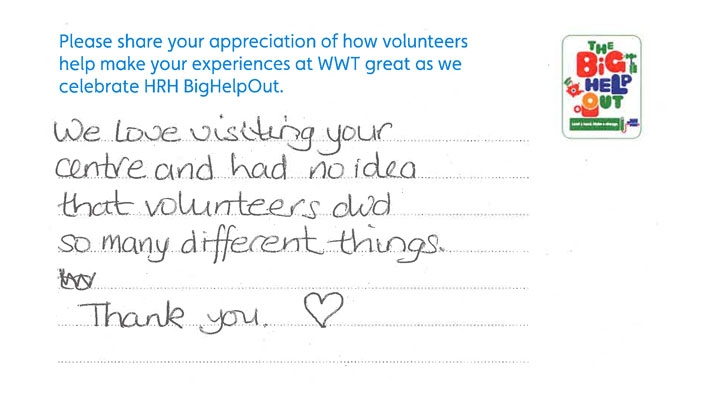 Visitors
"The volunteers advised me on where to see the cranes and I did see one so I was very pleased! They were very kind and we talked about swans with my toddler son – such a beautiful thing to talk about nature! Thank you so much – your work is appreciated."
"Thank you for always being so enthusiastic and taking the time to answer our questions about the birds. We have learnt a lot from you all!"
"Thank you so much to all the amazing WWT volunteers for making this such a wonderful place for us to have fun and learn!"
"Thank you so much to all the amazing WWT volunteers for making this such a wonderful place for us to have fun and learn!"
"I always enjoy coming here a lot, I've been coming all my life (now 30!) It is so wheelchair friendly I love the walks and the ducks and kind friendly people. Thank you everyone for working so hard to make it so special."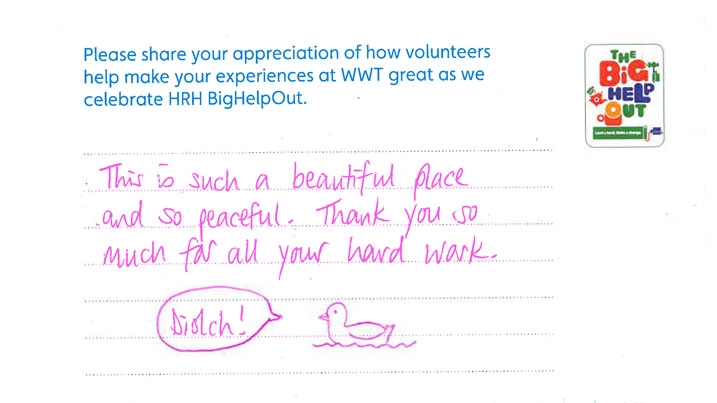 Staff
"Thank you to all our amazing volunteers for all the time you give to WWT. We couldn't do it without you!"
"A word of thanks – a shout out – to the volunteers at WWT Llanelli, for keeping the place in top notch condition, always ready to receive visitors and always a credit to the Trust."
"Where would we be without you? We would not be! Reserve grounds, indo desk, marketing, trading, learning and floral art! You help us everywhere so Diolch – thank you!"
"To all our amazing volunteers, we really could not operate without you. Thank you from the bottom of my heart."
Our volunteers don't just help out behind the scenes, in many cases they're the face of WWT, welcoming you when you visit, running workshops or pond dipping sessions, informing you about the latest wildlife sightings and making sure you have up to date information on our conservation work, for many they're what make our visitor centres tick. If you have some spare time and would like to be part of the team take at a look at our volunteer opportunities. We'd love to hear from you.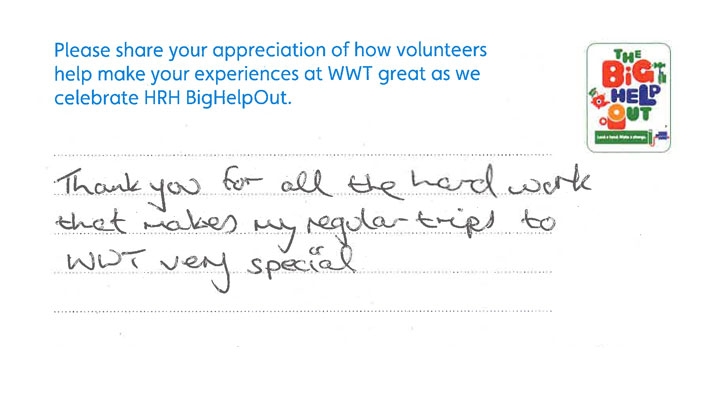 ---