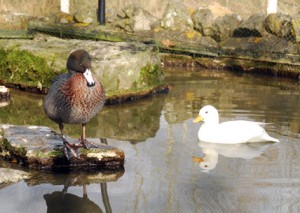 Jerry the New Zealand blue duck lived alone at WWT Arundel Wetland Centre, the only one of his kind left in the UK.
Young Jerry had paired with Cherry, the last UK female blue duck at Arundel, when he first arrived from WWT London in 2008.
Cherry proved too old to breed and she died early in 2009. Jerry then developed a 'bromance' with the remaining blue duck male, Ben.
"Ben and Jerry stayed together all the time, parading up and down their enclosure and whistling to each other as a male might do with a female," said centre warden Paul Stevens. This type of behavior is common among birds if they are isolated from the opposite sex.
Sadly Ben also died of old age last year.
Staff at Arundel Wetland Centre grew concerned when Jerry recently began showing symptoms of stress. In the wild, New Zealand blue ducks form a strong pair bond. Together the pair will establish a territory on a river and aggressively defend it against all other wildfowl. After Ben's death, Jerry's behaviour started alternating between frantic pacing and noisy calls to periods of quiet moping. It became obvious Jerry was lonely.
Blue ducks have been declared 'endangered' by the International Union of Conservation for Nature (IUCN) and are no longer exported from New Zealand.
With no other blue ducks here to befriend Jerry, WWT Arundel deputy warden Samantha McKinlay contacted the New Zealand Department of Conservation for advice.
The NZDoC suggested trying to find a companion for Jerry from another species. This would need to be done carefully, with strict monitoring because of the natural aggressive tendencies of blue ducks. The NZDoC had successfully placed a blue duck with an Australasian shoveler duck as a companion.
Sam McKinlay and Mark Roberts, the Aviculture Manager at WWT Slimbridge Wetland Centre formed a plan to find a friend for Jerry along with Graham Clarkson, the captive animal manager for the Wildfowl & Wetlands Trust.
They decided to use a domestic call duck, a passive breed that are similar in size to blue ducks.
Jerry was sent off the WWT Slimbridge to meet a new female companion on neutral ground rather than introduce a new duck into his territory at Arundel. The pair spent 6 weeks getting used to each other in a larger holding pen, before returning home to Arundel to take up residence on Jerry's section of 'river'. The pair were monitored closely to gauge Jerry's behaviour back on his home turf.
"Jerry is very popular with visitors and we are pleased to have him back." said Arundel Wetland Centre manager Olivia Iles. "We have named his new companion Margo, hoping they will share a good life together."
Margo devotedly follows Jerry around the pen and the two seem content to share their space. You can visit Jerry and Margo at WWT Arundel Wetland Centre!
---