Wellbeing Month, 1-30 September
Escape the stresses of daily life this September and regain that relaxed holiday feeling as you head into autumn.
September at Wildfowl & Wetlands Trust (WWT) centres across the UK is 'Wellbeing Month', and there is a whole host of relaxing, calming and life-enhancing activities throughout the month designed to make you feel good.
At Arundel Wetland Centre you can relax at Waterfest, a celebration water for life, work and play at on 17-18 September .
Families can enjoy riding the miniature steam train, watching the Dabblers model boats sail over Swan Lake and visiting canal boat and water power displays.
The evening bat walk on 15 September is an interesting way to experience nature at Arundel Wetland Centre or you can learn to take beautiful nature shots at the Beginning Wildlife Photography course with David Plummer on September 24-25.
Get out and enjoy the fresh air, take part in new activities and embrace that feeling of calm as you experience the health and wellbeing benefits of interacting with wildlife at any of WWT's nine visitor centres.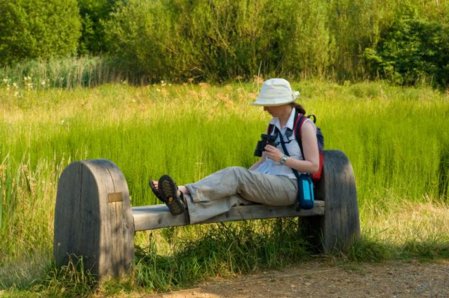 It is increasingly accepted that spending time outdoors, surrounded by nature, is good for people's physical, mental and emotional wellbeing. For example, recent studies have concluded that…
•spending time in the outdoors and in contact with the natural environment can have a positive effect on mental health[i]
• many people engage in feeding wildlife, such as birds, because they derive considerable personal satisfaction and comfort from the interaction[ii]
• contact with green spaces positively impacts blood pressure, cholesterol, outlook on life and stress-reduction[iii]
Plus, if you choose to become a member of WWT you can escape to any WWT centre as many times as you like throughout the year, for nothing!
Each WWT centre has exciting events and activities all year round, so there is always something to learn or do. WWT members can also feel good knowing that their membership helps to support WWT's conservation work both in the UK and around the world.
Every WWT centre has excellent restaurants and gift shops and all have family friendly and disabled facilities. So head down to your nearest WWT wetland centre this September and discover an oasis of calm.