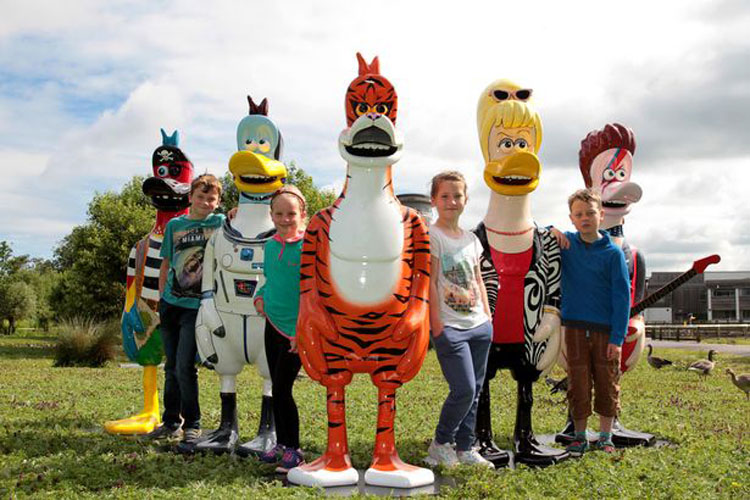 A very different type of duck, designed by the world-famous Aardman studios, is landing at WWT Llanelli Wetland Centre this week ready for May half term.
Dusty Duck has been designed exclusively for the Wildfowl and Wetlands Trust (WWT) by Aardman studios to celebrate WWT's 70th anniversary.
And it's not just one Dusty appearing at Llanelli this spring from 27 May – 25 June – there are 14 GIANT 6 ft Dusty Ducks for the public to discover on a special trail, each designed by a celebrity, including: Joanna Lumley's Absolutely Fabulous Patsy Dusty, Steve Backshall's Explorer Dusty and Smarked's (CBBC's Sam and Mark's) Tiger Dusty.
Pick up your Celebrity Dusty Duck trail map from the admission desk when you arrive and tick off the fantastic Dustys dotted around WWT Llanelli's stunning grounds amongst the real-life ducks.
The trail can be enjoyed throughout half term along with other family friendly activities including the popular Downy Duckling Week Experience (27 May – 4 June) where for one week only, you go behind-the-scenes to meet our little ducklings.
Nigel Williams, Llanelli Centre Manager said:
"We're thrilled to welcome all our amazing, giant Dusty Ducks to WWT Llanelli – they are going to look fantastic in amongst our real life wildlife.  Kids (and big kids) will love all the different wild and wacky Dusty Ducks each designed by a well known celebrity with their own take on Dusty Duck.   The trail is a great way to get children out and about exploring nature while having lots of fun this May half term and there's certainly plenty to keep families busy all day. "
The Celebrity Dusty Duck trail and Downy Duckling Week activities are included in admission.  Find out more information at wwt.org.uk/llanelli