We had reports on 29th March 2019 that our male osprey, Yellow 80, had been seen in Lancashire. Then, early on Tuesday 2nd April, he arrived at the nest. When the camera came on at 10am, there were new sticks on the nest and within a few minutes he landed. Half an hour later an unringed female osprey also landed on the nest. The male immediately started mantling in submission, and then they mated. The male has been bringing in fish for the female so hopefully in a couple of weeks she should lay eggs…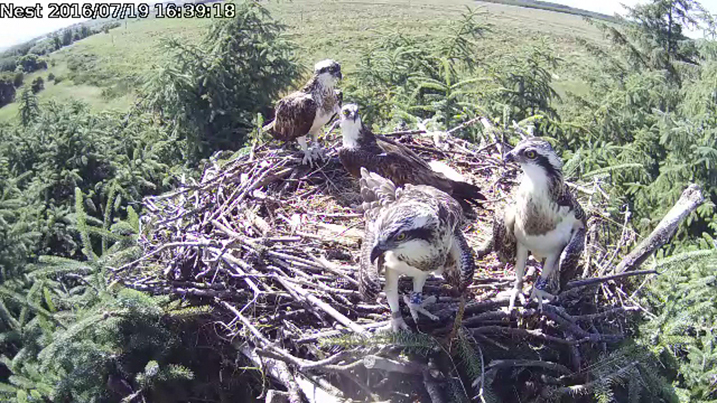 Ospreys returned to the Caerlaverock area in the summer of 2005. At that time there were only 4 known pairs of ospreys in Dumfries and Galloway. Ospreys had been gradually increasing in number in Scotland, since they were made extinct in 1916 due to Victorian hunters and egg collectors. The last nest recorded was on the castle at Loch an Eilein in the Highlands. They returned to Loch Garten in 1954 and were protected from egg collectors by RSPB and volunteers.
There are now over 200 pairs of osprey in Scotland and more than 10 in Dumfries and Galloway. In England ospreys are returning to Rutland Water and the Lake District and are regularly seen on migration routes on the south coast of England.
Ospreys migrate to West Africa every winter, returning to the UK in late March/early April and staying until August/September.
In the summer of 2017 we put satellite tags on two of our osprey chicks. We followed their progress on migration and one made it to Portugal before the tag stopped transmitting and the other chick went all the way to the Senegal/Gambia border. Ospreys generally winter in the wet mangrove habitats of Gambia, Senegal and Mauritania. Here there are good supplies of fish and the females can build up the calcium in their bodies, needed to produce healthy eggs in spring. They migrate to the UK to make the most of the long daylight hours, needed to bring in up to 14 fish a day for their growing families.
The Caerlaverock Osprey project is a partnership between WWT and Forestry Commission Scotland. The osprey nest is on Forestry Commission land a few kilometres from Caerlaverock Wetland Centre and there is a webcam on the nest. This live image is shown in the visitor centre at Caerlaverock and on the Caerlaverock website.
Ospreys feed on fish in any wetland habitat, freshwater, saltwater, deep or shallow. They will take brown trout from inland lochs, rainbow trout from fish farms, and on the Solway Firth they take flounders from the shallow mudflats. They can often be seen perched on a piece of driftwood out on the merse, eating a freshly caught flounder!
When flying back to their nest to feed their young, they will carry the fish like a torpedo. This makes them unmistakable to identify in flight. They look a bit like a large gull when flying, with their wings in a distinctive M shape. They are often seen on the reserve flying from the Solway Firth back to their nest with a fish.
Ospreys build large nests at the top of tall trees, as they like to get a good view. They have extremely good eyesight and will spot predators from long distances away. At Caerlaverock, a few years ago we put up a nest platform in the open fields to try and attract ospreys to nest on the reserve. This has not been successful so far, but we still have hope each spring that they might find it!
The ospreys first successfully produced chicks in 2009 and a male chick was ringed Blue LY. In the last 10 years at WWT Caerlaverock, ospreys have produced 17 chicks.
Year
Male
Female
Chicks
(Male/Female)
Chicks ringed
2009
Green AW
Unringed
M
Blue LY
2010
Green AW
Unringed
F, F, M
Blue TL, Blue HH, Blue HJ
2011
Green AW
Unringed
F, M
Blue HL, Blue ZY
2012
Yellow 80
Unringed
-
-
2013
Yellow 80
Unringed
F, F
Blue CN0, CN1
2014
Yellow 80
Unringed
F, F
Blue FK2, FK3
2015
Yellow 80
Unringed
-
-
2016
Unringed
White TR
F, M
Blue PW0, Blue PW9
2017
Unringed
White TR
M, M, F
Blue PY5, PY6, PY7
2018
Unringed
White TR
M, F
Blue LL2, LL3
2019
Yellow 80
Unringed




Follow the live webcam to see all the action in 2019!