The following sightings were recorded today at Mid tide from the reserve at Castle Espie.
They have returned! After flying over 2500 miles from their breeding grounds in Arctic Canada Brent Geese have returned to their wintering ground in Strangford Lough. First seen on the 30th August, still only small groups being seen but in the next week, thousands more will arrive. Autumn is well and truly upon us. Other waders are increasing in numbers too: Curlew are appearing in greater numbers, Whimbrel, Ringed plover and Dunlin are all being seen in small flocks in addition to the small flocks of other wintering waterfowl. Take sometime at the Brent hide and the Limekiln observatory to look over the Estuary to see some of these wonderful birds.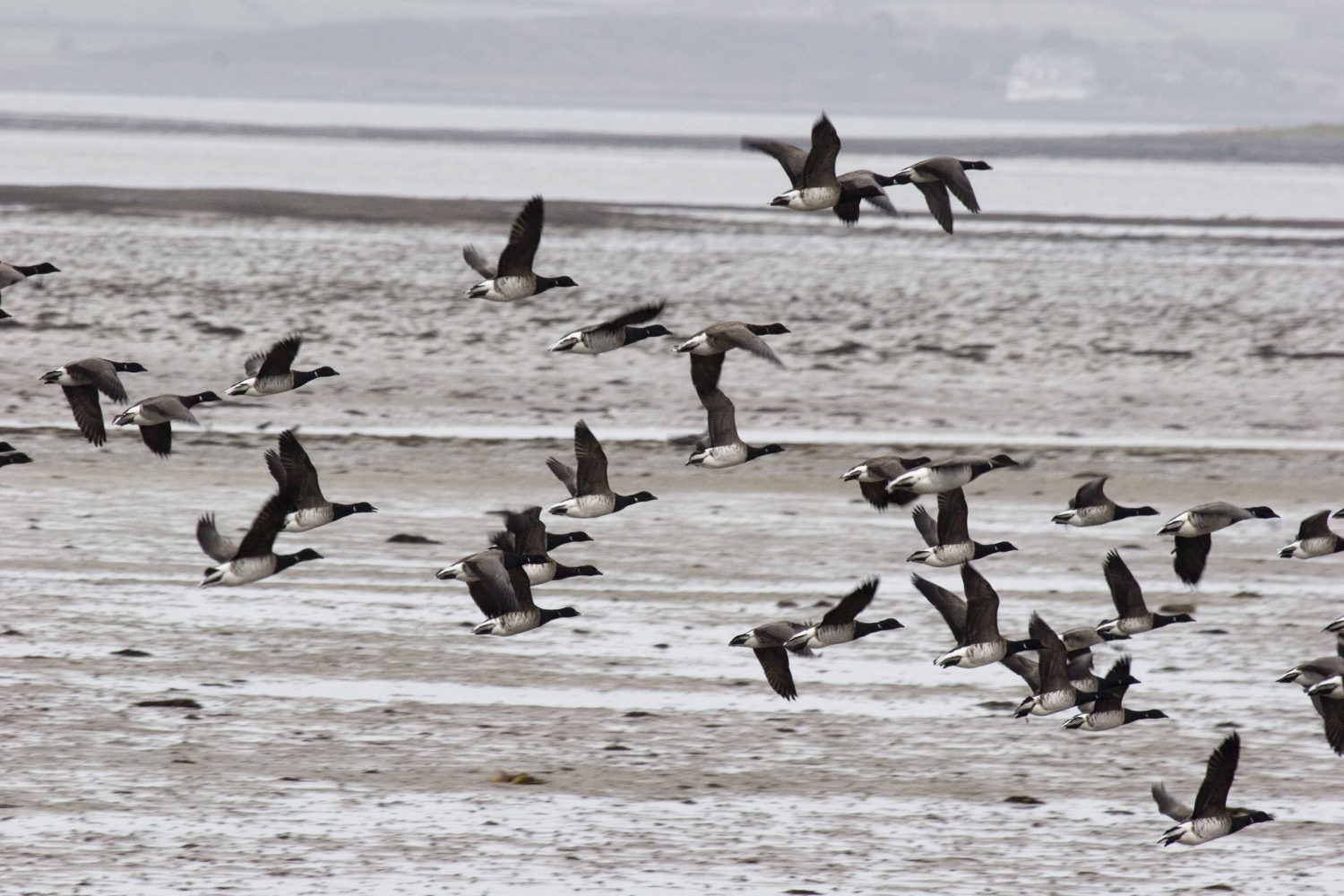 LIght-bellied Brent Geese over Strangford Lough.
Estuary – visible from the Brent Hide and the Limekiln Observatory
Black-headed Gull 25, Lesser Black-backed Gull 2, Oystercatcher 75, Curlew 50, Little Egret 2, Brent goose 13
Main lake – visible from Sensory garden and Visitor centre
Mallard 63, Tufted duck 13, Moorhen 1,  Coot 3, Heron 5, Little Egret 2, Mute Swan 1
Shingle bank – visible from Sensory garden, Wadermarsh and Visitor Centre
Moorhen 5, Mallard 42, Greylag Goose 11, Black-headed Gull 5, Common Gull 2, Pintail 1, Teal 2
Wadermarsh – visible from Wadermarsh lookout and Brent Hide
Black-headed gull 13, Moorhen 1, Lesser Black-backed gull 2
Freshwater Lagoon – visible from Brent Hide and Crannóg
Mallard 18, Teal 19, Moorhen 2
Saline Lagoon – visible from Limekiln observatory
Little Grebe 5 , Little Egret 1
Limestone Lake
Mallard 2,
Peninsula Field and Saltmarsh
Black-headed Gull 1,
Brickworks
Goldfinch, Linnet, Swallows
Woodland
Blackbird, Song Thrush, Wren, Wood pigeon, Robin, Blue tit, Great tit, Coal tit,  Chaffinch, Goldfinch, Hooded Crow, Goldcrest, Bullfinch
Butterflies on the reserve
Small White, Large White, Green-veined White, Speckled Wood, Common Blue, Small Tortoiseshell, Small Copper, Painted Lady, Silver Y,