A nature journal is a personal record of observations and experiences in the natural world. It can be a way to connect with nature, learn about the natural world, and express your creativity.
Restore your energy and connect with nature by observing the natural world through a creative lens - drawing, painting or writing about what you see. There's no right or wrong way to create a nature journal; the most important thing is to be creative and have fun!
As the seasons change, keep adding to your journal to create your very own personal record of the things you notice and how they make you feel in that moment.
Our hectic modern lifestyles can leave us feeling stressed, anxious, rushed, and disconnected from other people and nature. When you nature journal, you are intentionally paying attention to the natural world around you. This can help you slow down, relax, appreciate nature's beauty, and reconnect with your own sense of wonder.
Through writing, drawing, painting, or any other creative method, your nature journal can be a great way to relax and boost your mood.
Reduces stress and anxiety
When you're in nature, you're surrounded by sensory experiences. Calming sights of birds in flight or sunlight on water, the sound of birdsong and rustling leaves, or the feel of the breeze or drops of rain on your skin. These can help to lower your heart rate and blood pressure and reduce feelings of stress and anxiety.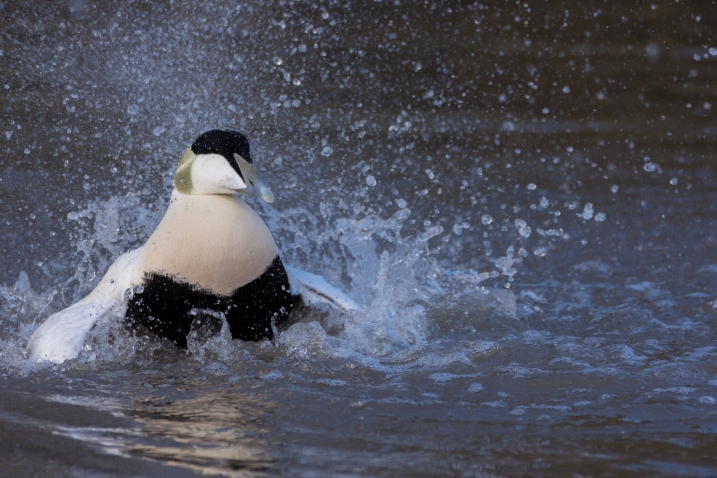 WWT research shows just ten minutes in a wetland setting can lead to an increase in positive feelings.
Improves mood and self-esteem
Nature journalling can help you to appreciate the beauty of the natural world, which can boost your positive emotions and make you feel more grateful for the world around you. It can also help you to express yourself creatively, which can improve your self-esteem.
Promotes mindfulness
Nature journalling can also promote mindfulness, which is the practice of paying attention to the present moment without judgment. When you are nature journalling, you are focused on the natural world around you. This can help you to slow down, relax, and be more present in the moment.
Supercharges brainpower
Studies have shown that spending time in nature can help to improve memory, attention, and problem-solving skills. This is because nature exposure can help to reduce inflammation and improve blood flow to the brain. When you express yourself creatively, you are tapping into your own inner resources and resilience, helping you cope better with stress and difficult emotions.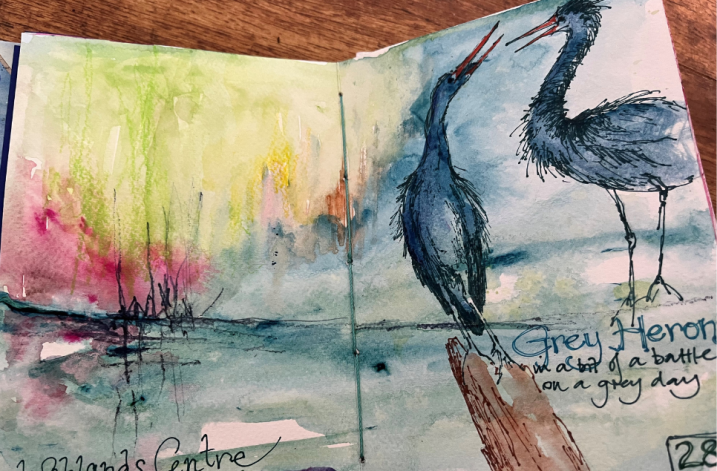 Read more about the healing power of nature and how spending time around water and wetland nature benefits us here.
Try it yourself
If you are interested in starting a nature journal, here are some tips to get you started:
Find a place in nature that you enjoy, somewhere you feel comfortable. This could be here in the wetlands, at a park, the beach, or even your own garden.
Take your time. Observe your surroundings. What do you see, hear, smell, taste, and feel?
Choose one object or creature to focus on. This could be a plant, animal, rock, or any other natural object that catches your eye.
Use your senses to describe what you see. You can write, draw, paint, collage, take photos, or even collect some leaves or fallen flowers to press in your journal.
Add any other thoughts or observations that you may have. This is your personal journal, so don't feel self-conscious or hold anything back. Do share your creations if you feel like it – you could inspire someone else!
Be patient and don't worry about making your journal perfect. Experiment with different art materials and techniques. Nature journals can take many different forms.
Find a group
Need some inspiration? Meet new friends and discover a great creative hobby surrounded by incredible wetland nature in our monthly nature journal art workshops with artist Rhiannon Collins.
Rhiannon has been a keen nature journaller for years and enjoys sharing the benefits of journalling with others.
I find the nature journal a great way to focus on surroundings, the natural world around us and the many incredible things that holds.

It really takes you away from daily worries, and it's also a wonderful way to remind me about the bigger picture and that I have so much to be grateful for.

There's a saying, "through drawing we learn to see," - which is so true as you notice so much more when you are sketching and is even more true when you're writing down thoughts and observations in your journal.

It's such a mindful, rewarding practice, and I feel puts things back in perspective for me.
Find out more about Rhiannon's nature journal workshops here.
There are lots of art workshops coming up over the next few months as part of our Drawn to Water: Quentin Blake at WWT partnership. Be inspired by his beautiful illustrations in our autumn seasonal trail.
---