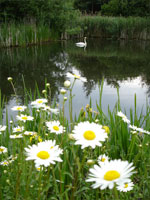 Water is rapidly moving up the agenda as the major environmental issue and 2009 brings unprecedented opportunities for government to make positive changes for society.
Several important policy developments will happen this year: new legislation will address flooding and water, Ofwat will decide how water companies fund environmental improvement and, crucially, government will decide how to deliver the ambitious objectives of the EU Water Framework Directive.
This 2 February the Wildfowl & Wetlands Trust (WWT) marks World Wetlands Day by urging everyone to let the government know we want a sustainable future for water that maximises the benefits that wetlands deliver to society.
Carrie Hume, WWT's head of conservation policy explains why water is such an important issue for all of us: "Our activities have destroyed many of our natural river systems and waterways, and the functions, such as flood relief, that they provided. The ways in which we have manipulated and managed our water has come at a big cost to us and our wetland wildlife. Over 80% of our water bodies are in poor ecological condition. They are not working as nature intended and for every natural process that is unpicked, we are obliged to replace it with a costly artificial one. The urgent need to restore the balance is gaining more and more support. But we still need to use every opportunity to become a tsunami of opinion for the restoration of our wetlands."
The EU Water Framework Directive requires governments to set out how they will improve the health of wetlands by the end of 2009. There is an opportunity for every one of us to have our say. Until the 22 June, the Environment Agency is asking for the public's views on its draft River Basin Management Plans, which outline what action is needed where in order to deliver the Directive.
Carrie Hume explains: "The draft plans do not go far enough at the moment, but we have a window to influence them and a seemingly open ear. It's vital we give government a strong message that there is support for clean, ecologically rich waterways. Each of us can give the benefit of on-the-ground, local knowledge to inform these plans. WWT has posted its guide to responding to the River Basin Management Plans on its website and we will be providing our own response later in the year."
We are expecting the draft Floods and Water Bill to build on lessons learnt from the floods of 2007. The Bill will bring together a range of government sponsored reviews and reports. Ofwat, the Water Services Regulation Authority, is due this year to decide how water companies fund environmental improvement.