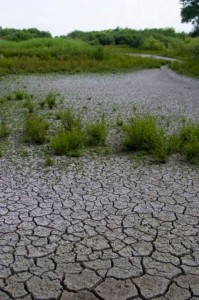 Nature experts warn that this summer could be the worst for wildlife in over 30 years if the current period of low rainfall continues.
Rainfall has been so low that in many areas the level of moisture in the soil is currently worse than in 1976, when the UK suffered one of the most severe droughts on record .
All creatures need water to survive and reports from around the UK indicate wildlife is already being affected.
At WWT's Welney Wetland Centre in Norfolk there has not been enough rainfall to flood the grassland habitats, which has meant less food for grazing ducks such as wigeon.
It is a similar situation at WWT's London Wetland Centre, where the low flow of water through the reserve has reduced the number of waterfowl.
Although water supply to most homes may not be affected as water companies have measures in place to collect and store enough water for domestic supply, this comes at the expense of the countryside.
Farming is already under pressure to produce crops with an uncertain water supply. If supplies dwindle as predicted this summer, the conflict is likely to be pitched as farming vs. wildlife when really both are victims of the way water is used and managed.
WWT's Head of Wetland Conservation, Rob Shore, has been hearing reports from WWT's wetland reserves around the country. He said:
"We haven't yet had the dreaded hosepipe ban warnings but wildlife is the proverbial canary in the cage. We want government to tackle this problem before it gets out of hand – not just relieving the problem this year but by putting plans in place to prevent this happening again."
"We have the technical solutions and have identified regulation, from farming subsidies to water company regulation, which could be tweaked to keep more water on the land to help wildlife and farmers. Ultimately it will benefit all of us as consumers."
One solution being proposed is to create lots of small wetland areas to capture rainwater when it does fall. By slowing the flow of water off the land these allow more water to percolate into soils and aquifers.
The added benefit is that they prevent soil, nutrients and other pollutants from being washed into our rivers, which in turn reduces the costs of water treatment.
Rob Shore continued:
"We're struggling to keep our wetlands wet in winter which is virtually unheard of. The knock on effect will be on the birds breeding in spring, so it is easy to see how quickly this can escalate. What we are proposing are small but sensible changes, which bring very tangible benefits for all of us."
Despite some recent rain, the majority of river systems in England or Wales are currently flowing at below average levels and many are critically low . The situation is even worse for our groundwater supplies, which have not been replenished over the autumn and winter.
Rain has generally fallen in short, heavy bursts and run straight off the dry, compacted land and very quickly ended up in the sea. This is already raising the threat of flooding at the same time as drought. Climate change is predicted to bring heavier and less frequent rain making this a more common occurrence.