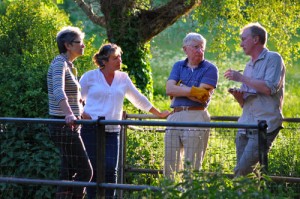 Two local volunteers have won a cash award having been nationally recognised for their contribution to conserving wetlands.
At a short ceremony at the Batford Springs nature reserve in Harpenden, which they run as part of a team of volunteers in their spare time, Susanna Geoghegan and Oliver Randell were presented with a cheque for £1,000 by Brian Marsh, founder of the Marsh Christian Trust, and Andy Graham, Head of Wetlands for People at the Wildfowl & Wetlands Trust (WWT).
Susanna, Oliver and the volunteer team have developed the 4.5 hectares former-watercress farm into reed beds, wet woodland and chalk stream, all fed from the boreholes sunk to grow the watercress. The reserve is regularly used by local people including scouts, guides, school groups and people with disabilities.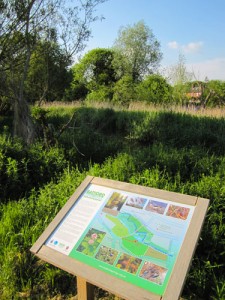 They were shortlisted for the Marsh Award following a nomination by a member of the public. The judging panel visited five other wetland conservationists around the UK before deciding on them as the national winners.
Susanna & Oliver said that, "in addition to being a precious and varied habitat, the BSNR is a unique amenity for the Harpenden community. By volunteering we feel that we are contributing in a practical and positive way to its preservation and enhancement.
"Many of our fellow volunteers who visit the reserve for pleasure with their children and grandchildren appreciate all the benefits it brings and we hope that the reserve will continue to thrive and provide the same pleasure for generations to come"
Andy Graham of WWT said: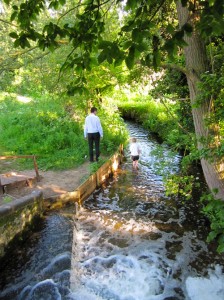 "It was fantastic to meet the people who manage these wetlands. They pretty much do it all as volunteers in their own time, but they do it with immense care and there is an extraordinary amount of expert knowledge at this grass roots level.
"It was a tough job choosing who to make the award to, but on balance we felt that Susanna and Oliver had the edge. There is an incredible diversity of wetland habitats crammed into this former watercress farm and, crucially, we could see just how much the community use Batford Springs."
The Marsh Award for Wetland Conservation is funded by the Marsh Christian Trust and awarded by WWT to people with passion and dedication that go the extra mile in looking after a wetland.