Out on the reserve today
Crane – 3 on Lady Fen and Bank farm
Common sandpiper – 2
Little egret – large numbers
---
---
Our friends in the north
I must apologise for the tardiness of this diary update. When I last wrote I was heading up to Martin Mere for a couple of days and then I was only back in the office for one day before a week's holiday to visit my parents so I think I was a little optimistic in thinking I'd have time to tell you all about our trip!
I'm a little distracted writing this as out of the window a little mole is working his way around the base of my bird table, pushing the soil up as he goes. It's funny to watch as a moorhen is following the mole's travels, picking out the worms which have been disturbed by his digging!
Anyway, what shall I tell you about our little trip to Martin Mere… well firstly, it's a fantastic centre so if you haven't been you must go! I love the fact that our centres are all so different and one of Martin Mere's strengths is the most incredible sightings of wild birds. In the Autumn, a record 36,000 Pink Footed Geese were recorded, I can't even imagine seeing this many birds and the noise as they come in to roost must be amazing. During our visit we saw good numbers of Pink Foots and around 1400 Whooper Swans; my eyes were constantly drawn to the sky to watch in awe as thousands of birds circled overhead. The 'Long Hide' offers fantastic views of the swan feeds which are twice a day and I was delighted to see several Ruff, a gorgeous little wader, so close up.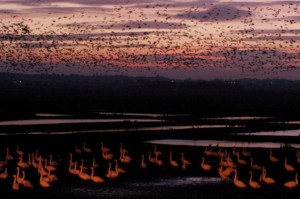 Martin Mere – Pink Footed Geese and Whooper Swans by Richard Taylor Jones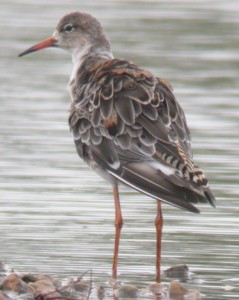 Ruff by James Lees
Although our Wet Grassland and Scrape area is smaller than that at Martin Mere, it's exciting to imagine what we'll see once it establishes and bird numbers increase. We're already seeing more activity as the land is greening up and Oystercatchers have popped in to inspect the newly gravelled islands in front of the Sand martin Hide. The other day I stood watching a beautiful Teal swimming just a couple of metres away. If you're in this hide towards the end of the day keep your eyes peeled for Little Egret flying in to roost in one of the trees. I was fortunate to see one fly right past the window but excellent views can be had from the Ramsar hide of them perching in the tree.
Martin Mere have a great collection of birds too. During our visit a pair of Blue Cranes arrived to join the other species of Cranes, the first time the species has been seen at any WWT centre.
I was fascinated by the Cereopsis or Cape Barren Goose, a handsome bird with a distinctive greenish/yellow bill. Incredibly territorial, they reminded me of our Bronze Winged Ducks which you may have seen next to the Blue Duck pen. They are stunning birds but like other riverine species they defend their patch quite aggressively and many a time Bob, our aviculturalist, has emerged from the pen with bruised legs! Keep an eye out for them on your next visit as we are hoping they will nest successfully this year. Pat and I snuck in to take a photo yesterday and they came charging over displaying their distinctive behaviour; the male has a high trilling voice whilst the female is described as having a dog-like bark. Pat managed to get a quick snap before they reached us but I slipped over and landed on a stinging nettle covering myself in mud… it's good to get out of the office!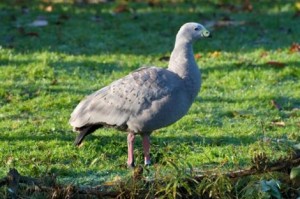 Cereopsis by Graham Maples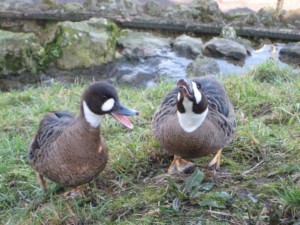 Bronze Winged Ducks – Arundel
Other highlights at Martin Mere were the Harrier Hide which looks out across the reserve, a large play area for children, and the new restaurant which has recently been completed. They are also in the process of creating a canoe safari and boat ride similar to Wetlands Discovery following on from the popularity of the boats here at Arundel.
I'm going to head off for lunch now and take a walk in the grounds, several Buzzards have been circling over the Hanger the past few days and a pair of Peregrines have regularly been spotted too so I'm keen to get my bins out and get a better look!
Have a good week, I'm working the next few Sundays so may see you soon.
Best wishes, Liv
---
---