Escape and unwind this summer. Leave the world behind, forget your worries and take that much needed break from your smartphone. As temperatures soar, the draw of water becomes overwhelming. Every time a heatwave hits, our coasts, lakes and inland waterways become inundated with visitors as we seek out respite from the sweltering heat. Wetlands are naturally shady and cool so are a great place to be on a hot day.
Wildflower wonder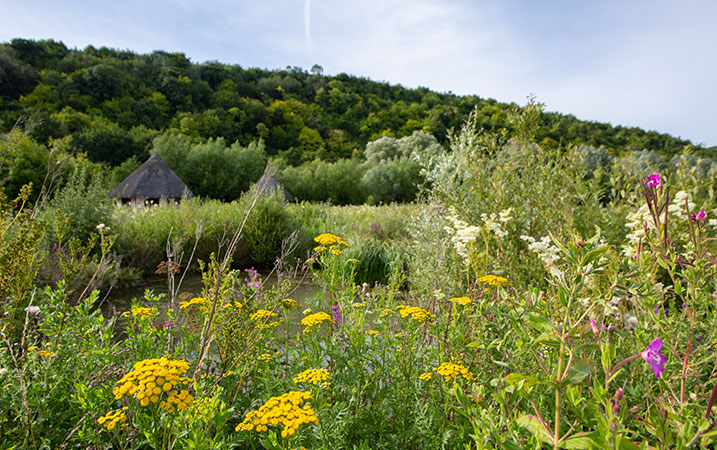 For a sense of wellbeing and relaxation you can't do better than a day out in nature. The ancient castle, steeply wooded cliffs and the rolling chalk hills of the South Downs provide a beautiful setting for WWT Arundel. Take our wooden boardwalk of decks and bridges through a peaceful world of reeds, lakes and forests where dragonflies dance and marsh harriers soar above. In the summer the meadows here can only be described as a wildflower paradise and this year the botanical bounty is spectacular.
The meadows are full of vanilla-scented meadowsweet and rainbow colours of marsh woundwort, common valerian, birds foot trefoil, yellow rattle, purple loosestrife, skullcap, self-heal, yellow loosestrife black knapweed, figwort, meadow vetchling, feverfew, tufted vetch and great burnet to name but a few. There are also rare orchids to be found - marsh, common spotted and bee orchids are all here. So move slowly through the landscape taking in the sights, smells and sounds. Listen closely for the buzz of the bees and take in the sight of a rare butterfly. It is a truly uplifting experience.
Get away from it all
If lockdown has been tough or you've just had enough the best thing you can do is head for the hills – literally. The wilderness of Scotland, with its abundance of nature, its dramatic landscape and attractive lack of people is a real tonic. WWT Caelaverock is 1400 nature-filled acres of amazing wildlife, abundant space and spectacular views that is easily accessible.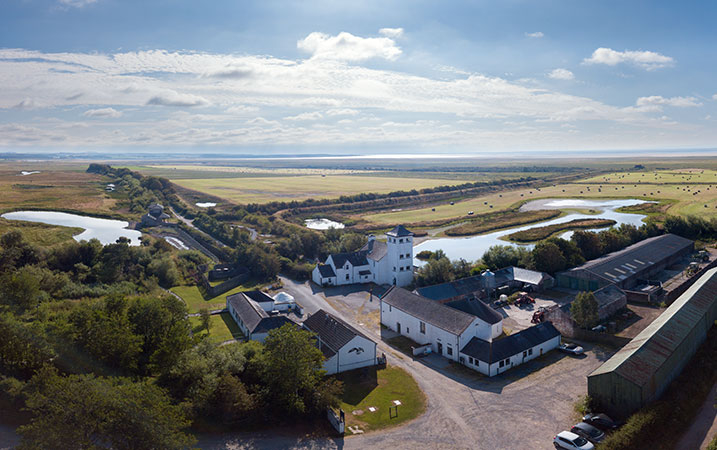 It also has more hides, towers and observatories than any other nature reserve in Scotland – just in case that makes a difference (spot kingfishers, woodpeckers and the rare tree sparrow). Sweep through flower-filled meadows, past wild orchids and orange-tip butterflies. Then follow the muddy banks of Lochar Water, looking out for roe deer tracks and a glimpse of the elusive otters who live there.
A family adventure
Wetlands are the perfect place for adventures. With magical places to play, secret places to explore and tranquil places to stop, what will you discover today? Cross wibbly-wobbly bridges, dart across stepping stones and put your balancing skills to the test!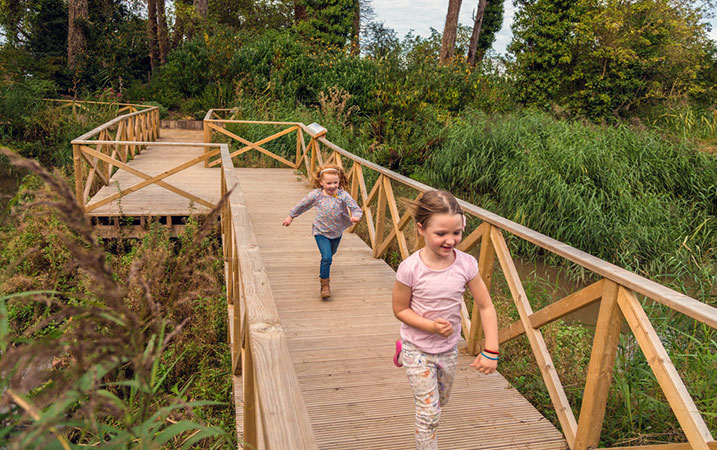 Zig-zag along winding paths and play hide and seek amongst the trees. With stunning views and the shifting landscapes of Strangford Lough WWT Castle Espie in Northern Ireland is the perfect place for a wetland adventure.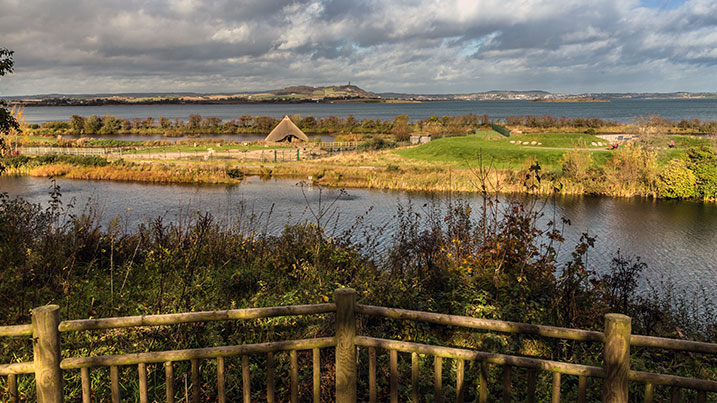 Cycle your way through nature
A family cycle ride is a great way to get everyone active. A weekend cycling in Carmarthenshire could see you winding your way past castles, golden beaches, craggy peaks and charming towns. The millennium coastal path brings you to the doors of WWT Llanelli so park up your bike and come in for a wander.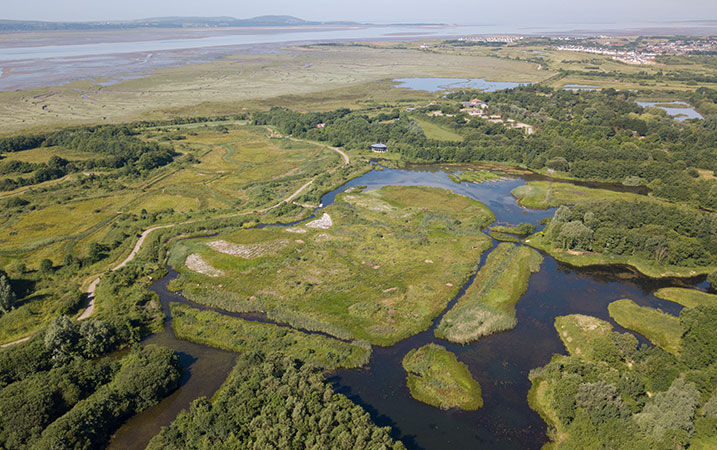 A breath-taking 450 acre mosaic of lakes, pools and lagoons, this peaceful wildlife sanctuary is a haven for some of the world's most spectacular birds, including a fabulous flock of Caribbean flamingos. If you're lucky you might spot a water vole (the centre is one of only two National Key Sites for water voles in Wales) which is now the UK's most endangered mammal. Wild otters have also become a regular (but still elusive) sight throughout the wetlands, they love the bountiful supply of fish and clean waterways.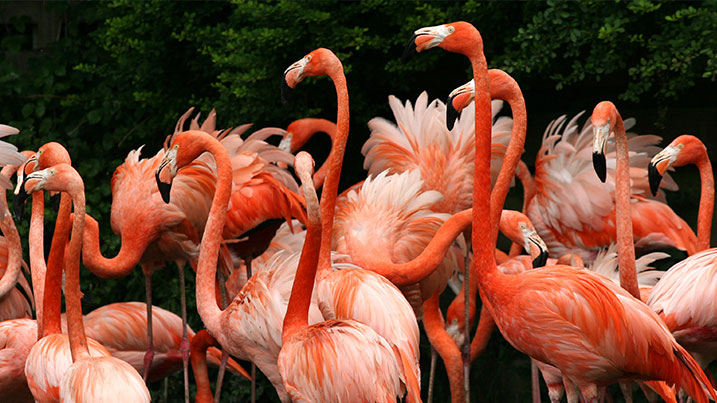 And relax…
Even a busy weekend sightseeing needs a bit of downtime. WWT London is just the place to escape the hustle and bustle for a while. Immerse yourself in our urban oasis, breathe in the clean air, stroll among the lakes, ponds and gardens and discover a safe haven of wide open spaces bursting with wetland nature.
You can't beat the sweet-scented peace of our beautiful gardens, The RBC Rain Garden and The Slate Garden. Wander through them enjoying beautiful wildflowers, reeds and grasses or sit and dream away the afternoon to the buzz of insects and the flash of dragonflies. You might even get a visit from a friendly goose.
A watery landscape
If you're looking for water WWT Slimbridge is a great place to head. Sandwiched between the river Severn and the Sharpness canal with stunning views across the Cotswold Hills there is plenty to do here for a watery day out. Why not walk the summer walkway down to the banks of the stunning Severn estuary?
Sometimes it's easy to forget that WWT Slimbridge is nestled against the second biggest tidal river in the world. From its deepest mud flats to its tide lines, the river defines Slimbridge and the species we attract to our beautiful reserves. If you haven't yet been down the summer walkway and marvelled at the sheer power of the river, it's time to put it on your bucket list.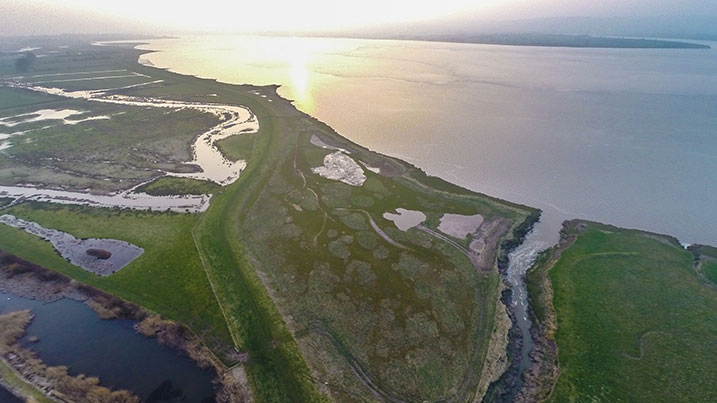 A little further along the river Severn you'll find WWT Steart Marshes, an unspoilt wetland paradise. With wide open spaces, views across the river and acres of land to explore by bike, horse or on foot this is the perfect place for a gentle stroll or a family bike ride.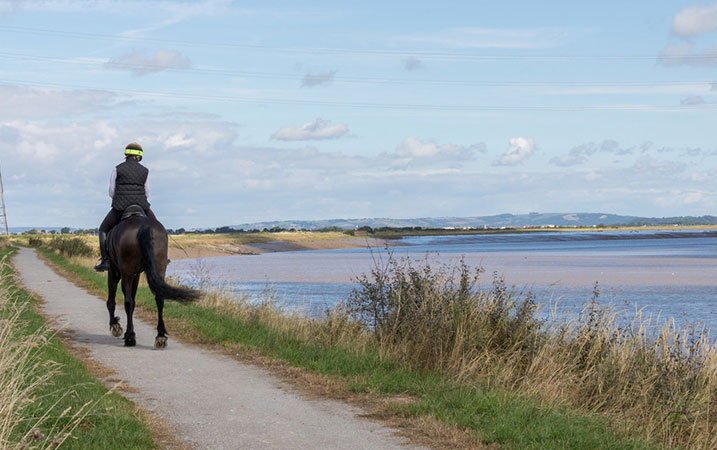 The site attracts rare wetland species from all over the world all year round but in the summer is a haven for butterflies, dragonflies and damselflies. You can really feel the gentle buzz of summer at this magical spot.
Wildlife watching
There are few things more relaxing than whiling away the hours watching the comings and goings of the wildlife around you. At WWT Washington, on the banks of the River Wear between Newcastle and Sunderland, you can sit in peace and watch the wildlife spectacle unfold before you. The site's largest body of water, Wader Lake, is a premier viewing point for avocet, oystercatcher, lapwing, redshank and little ringed plover.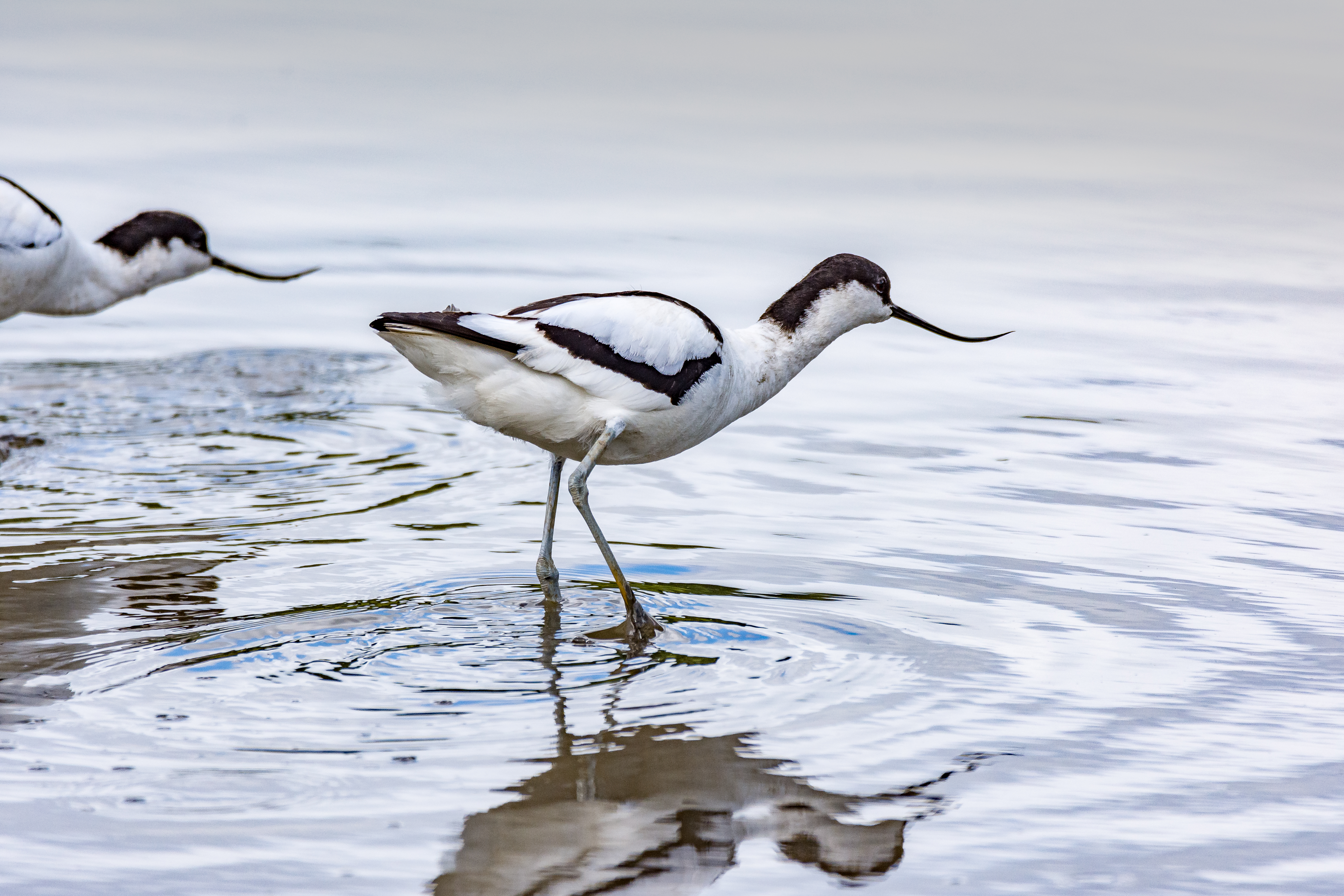 And if you're under the impression we're just about birdwatching think again, wetlands are home to lots of different animals so once you've finished wildlife watching you can visit the flamingos and otters and even hand feed the world's rarest goose. Keep your eye out for dragonflies, damselflies and butterflies along the way.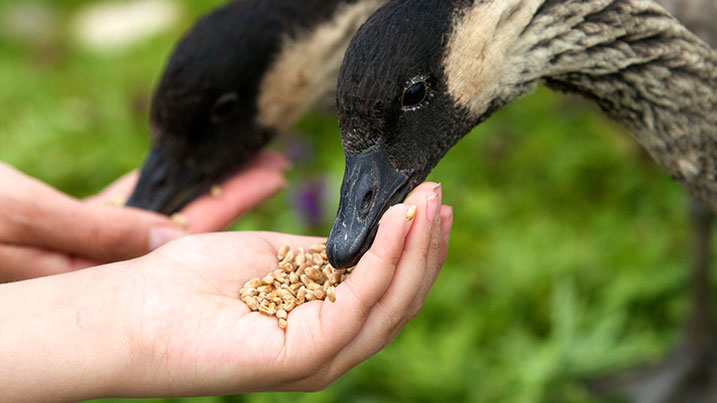 Watery fun for everyone
Whether you're looking for a way to get really close to nature or just to have a bit of fun with friends and family, canoeing is the way to do it. At WWT Martin Mere you can paddle in safety and style with our award-winning kilometre-long Canadian canoe trail.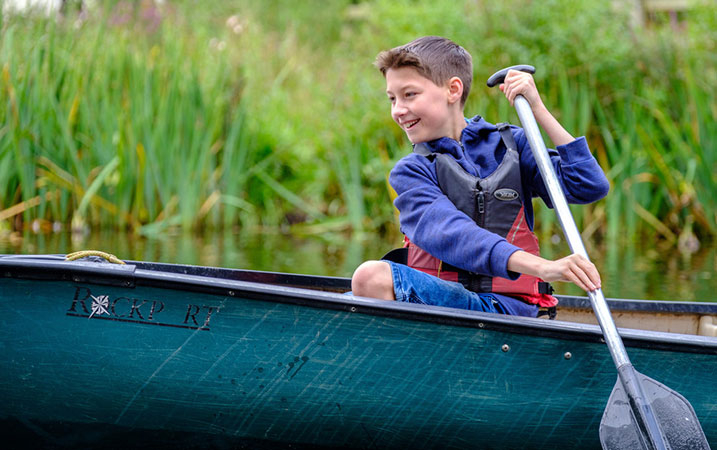 Relax as you drift gently through the reeds and keep a look out for water voles, kingfishers, dragonflies and butterflies. When you've finished on the water, take a stroll to meet our wetland wildlife superstars, including flamboyant flamingos and playful otters – and some GIANT LEGO® brick wetland animals who are visiting for the summer.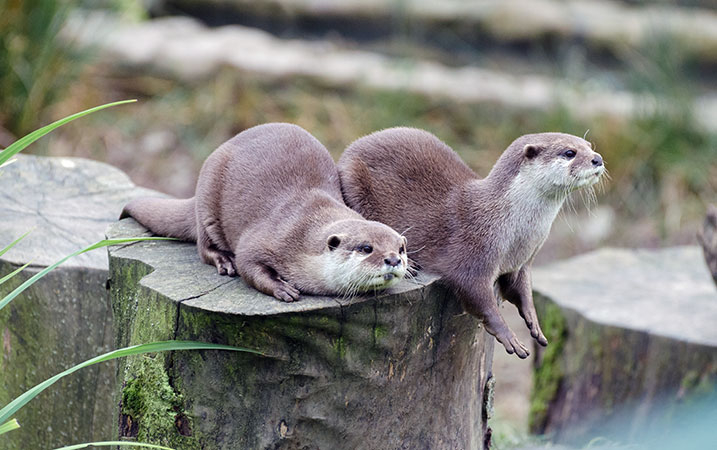 Where land meets sky
The wild landscape of the East Anglian fenlands is the perfect place to see big skies and endless horizons. When the sun hits the feathery reeds rising from the dykes and the bullrush heads turn to candyfloss in the watery reflections there really is no place better.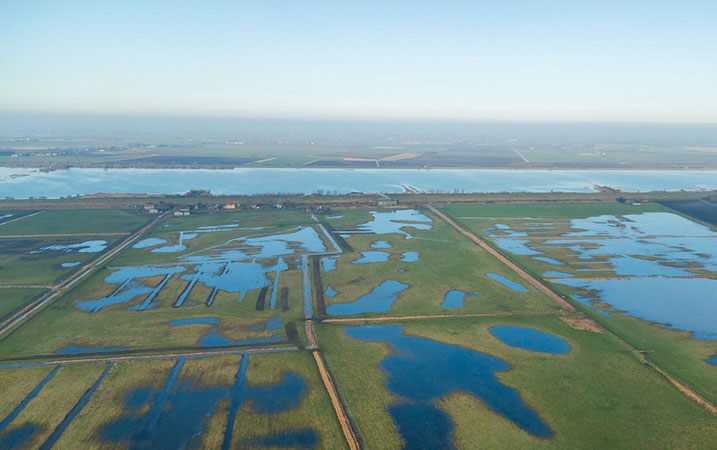 Here you'll find WWT Welney where you can sweep through scent filled meadows and the wild washes of the Fens. If you're looking for a wildlife treat you might be lucky enough to spot a hare – just like us they love the open fenland.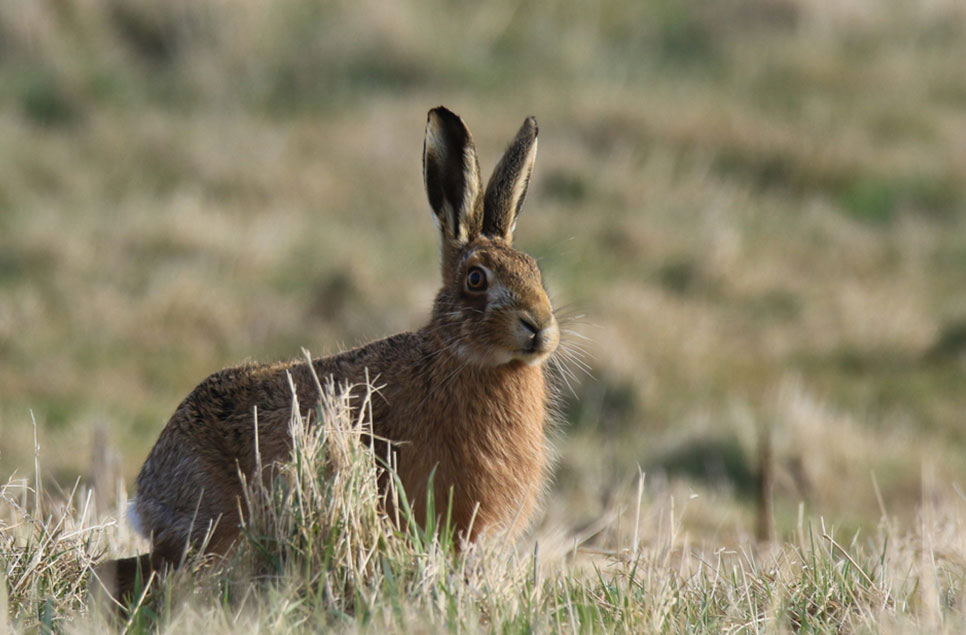 Visit a wetland
See all the summer sights in person by paying a visit to one of our wetland centres. To help keep everyone safe at the moment we've made a few changes to our sites, and are asking everyone to book in advance, so we can give you the best possible experience.
Find your nearest wetland site