As the UK's largest wetlands charity, we celebrate wetlands 365 days a year. But on 2nd February, the world comes together to raise awareness for wetlands and why we should protect them.
What is World Wetlands Day?
World Wetlands Day is celebrated each year to mark the anniversary of The Ramsar Convention on Wetlands, which was signed on 2 February 1971, to protect these vulnerable yet crucial habitats. Wetlands help clean our water, protect against climate change and even support our wellbeing.
The theme for World Wetlands Day 2023 was 'Wetland Restoration'. The focus is on the urgent need to revive degraded wetlands and restore these essential ecosystems. Wetlands are disappearing three times faster than forests, and more than 35% of the world's wetlands have been degraded or lost since 1970. But with your support, we are working to reverse this trend.
Picture this: thriving wetlands
To mark World Wetlands Day 2023, we unveiled a spectacular 3D wetlands mural right in the heart of Bristol!
Created with the artists 3D Joe and Max, this immersive glimpse into UK wetlands showed how degraded wetland can be transformed into flourishing habitat, highlighting the amazing potential for wetland restoration and creation.
Wetlands are hugely important ecosystems, full of life. The artwork features a host of wetland wildlife with a stunning 3D effect that allows you to interact with the artwork and put yourself in the picture. The mural toured around the UK to help raise awareness of the importance of wetlands.
Find out more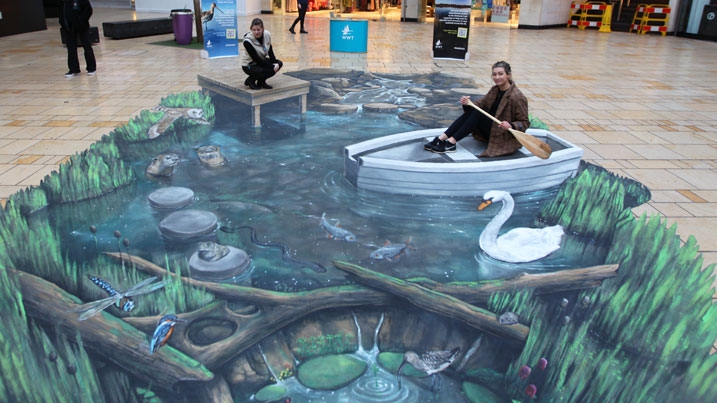 Wetlands Can!
Wetlands naturally clean pollutants from our water, store carbon, and provide protection from storms and flooding. Spending time in wetlands is also shown to boost our health and wellbeing.
Add your name to our Wetlands Can! campaign today and show your support for the creation and restoration of 100,000 hectares of healthy wetlands in the UK:
Show your support